What to write in a sympathy card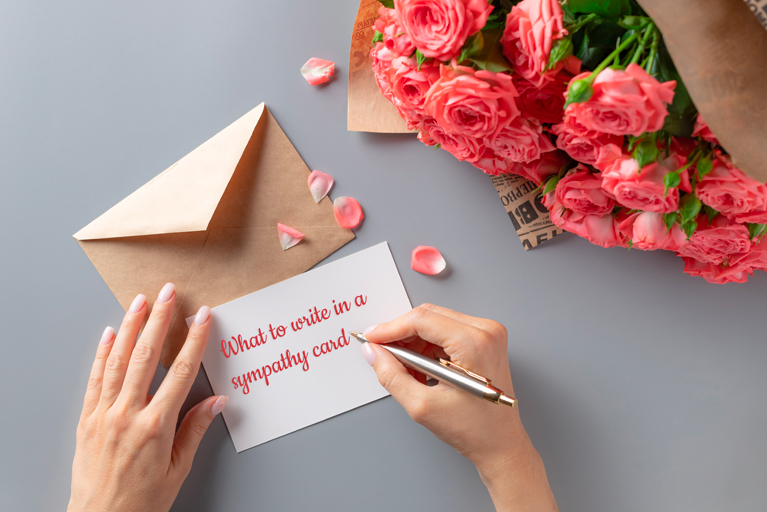 Death is incredibly difficult. Finding the right words for even a short condolence message can be daunting. How can you express your sadness, or show love and support for those left behind?
As florists, we read a lot of sympathy cards. Some are deeply touching.
In this article we'll go through our top tips for writing a short condolence message, and give you some ideas to get you started.
So whether you're sending condolences to a colleague and can't find the right tone, or a cherished family member and feel bewildered by grief, read on for some inspiration. We hope it helps.
Quick tips
Sending a short condolence message isn't about making the person feel better.
It's about making them feel loved and supported.
You can't know exactly what they are experiencing. But in a small way you can make a difference.
So don't think too long about making it perfect. It doesn't need to be. It just needs to come from the heart.
You should:
keep it short
make it heartfelt
say the person's name.
But don't:
remind them of the good things they still have. (It's too soon. Just commiserate with their loss.)
promise something you can't deliver (ie don't say you're only a phone call away if you can't answer their call and provide support).
You can't take away their pain. But you can certainly let them know you're thinking of them. Here are a few suggestions to get you started. Use them as they are, or add your own personal touch.
May memories of (Name) comfort you.
I hope you know we're here for you.
Our love goes out to you.
Thinking of you at this time of loss.
Thinking of you in this difficult time.
Always thinking of you and your family.
Gone from our sight, but never from our hearts.
Words fall short of expressing my sorrow for your loss.
Now let's talk about short condolence messages specifically for a partner, family member, friend, or colleague.
Short condolence messages for your partner
You know your partner better than anyone. But you still don't know quite what to say when they've lost a loved one.
Here are some ideas for a short condolence message. Use them as a starting point and, if you think you can, try to add a personal touch only you can provide.
Remember, it's enough just to make them feel supported.
I'm so sorry. My heart goes out to you.
I'm so sorry for your loss. I'm going to miss her/him/them too.
I love you, and I'm here for you.
Please know that your friends love you and are here for you.
My heart is heavy today, and I know yours is too.
As you go through this difficult time, remember that you are so loved.
If there's still room on your card, try including a quote.
"Those we have held in our arms for a little while, we hold in our hearts forever." – Unknown
"When you are sorrowful look again in your heart, and you shall see that in truth you are weeping for that which has been your delight." – Kahlil Gibran
Short condolence messages for your family member
When your family member loses a loved one, you often have your own relationship to mourn with the person who has passed.
If this is the case, your own feelings of grief can make writing a short condolence message even more difficult.
Try one of these to get you started, and if you think you can add to it with a shared feeling or memory.
Know that we are thinking of you, remembering (Name) and celebrating his/her/their life.
(Name) will always be in our hearts and memories.
(Name) will leave a huge hole in all our lives. The family won't be the same without him/her/them. We're all thinking of you.
I will miss (Name) very much.
I am missing (Name) along with you.
You could also consider including these quotes.
"How very softly you tiptoed into our world, almost silently, only a moment you stayed. But what an imprint your footsteps have left upon our hearts." – Dorothy Ferguson
"Those we love and lose are always connected by heartstrings into infinity." – Terri Guillemets
Short condolence messages for a friend
As a friend, you're in a unique position of support. Reach out to them with a short condolence message that reminds them you're there. Try these.
Never forget that you have friends who love you.
Sharing in your sorrow. With love and friendship.
Please remember that you're not alone and I'm always here for you.
My heart is aching for your loss.
Wishing you peace to bring comfort, courage to face the days ahead, and loving memories to forever hold dear in your heart.
Passages like these can also feel comforting and help to show your support.
"Sorrow is so easy to express and yet so hard to tell." — Joni Mitchell
"Grief is not a sign of weakness, nor a lack of faith. It is the price of love." — Unknown
Short condolence messages for a colleague
When you know someone from work, it can be hard to know what to say about something as deeply personal as a condolence message.
Remind yourself that you don't need to write the perfect words. You're just aiming to offer support and show them that you care.
Here are some ideas to get you started.
Please accept my warmest condolences. I'm sending thoughts of peace and courage your way.
Sending you strength to get through this difficult time.
The whole office is thinking of you, and here for you however needed.
You have become like a part of the family, and we were so saddened to hear of your loss. You are in our thoughts.
May memories of (Name) and the love of family surround you and give you strength in the days ahead.
Try one of these quotes, if you still have room on the card amongst your bouquet.
"Like a bird singing in the rain, let grateful memories survive in time of sorrow." – Robert Louis Stevenson
"We find comfort in knowing that our lives have been enriched by having shared their love." – Leo Buscaglia
How to end your sympathy card
Once you've written your short condolence message, you need to finish it off. 'Regards' and 'Cheers' don't feel right, do they? Try something like these.
Thinking of you as you celebrate (Name's) life…
Thinking of you and hoping you are doing OK…
Wishing you peace…
With you in sorrow…
Sharing your sadness…
Lots of love…
Finding the perfect words isn't easy
The main thing to remember? Don't worry about making your message perfect. Just write from the heart. And keep the size of your sympathy card in mind, as it's usually small and attached to flowers.
The next thing to do is find the perfect sympathy flowers or funeral arrangement to celebrate your loved one.