Las Vegas Floral delivery
You may know and love Gaia Flowers in Downtown Las Vegas, but have no idea how it came to be. Or, you may know that Peter Frigeri is the guy behind Gaia, but have no idea what his story is. Or, you may know (and love) Peter and just want to catch up with him. Here's a Q&A for you all.
With a bachelor of science in horticulture from Penn State and several years' experience working in 
trade show plant and floral services, 
Peter founded his company, now Expo Ease, in 1995. Nearly

15 years later

, 
he integrated his passion for sustainable horticulture and floriculture into a new venture, Gaia. Having lived near and supported the Arts District for many years, Peter was elated to find a building on Charleston and Main that could accommodate both his existing and new businesses.
Peter's vision for Gaia was to offer Las Vegans 
a place where they could buy sustainable floral arrangements and locally made gifts and art and promote community among people who share his values of creativity, thoughtfulness, and sustainability. We asked him how he kept two small businesses afloat
during the toughest economic conditions DTLV has known, what inspires him and what keeps him coming back every day. 
How did you start your business?
It started with the inspiration I got from the Las Vegas Arts District. Also, at the time, the growing eco-awareness of consumers. Companies like Prana, Patagonia and Organic Bouquet got me thinking that businesses can have a positive impact on the community. So, I spun off the floral department from Expo Ease. I had talented staff, knowledge, and equipment to go from B2B to retail pretty quickly. Gaia still does special events and trade shows, but now serves wider range of customers.
How many years have you been in business?

10
What is your business philosophy?
Rule No. 1, take care of the customer. Rule No. 2, everyone is a customer.
What is your design aesthetic? 
Simple and clean, less is more, let the flowers say it themselves.
How do you create your style and where do you draw your inspiration?
Being in and enjoying nature. I'll take hikes in Red Rock Canyon NCA and just be amazed at the yucca plants or Joshua trees. Desert marigolds blooming, butterfly bushes in flower — the colors, the starkness of it all really move me.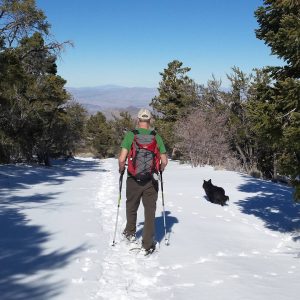 What are the trends, flowers and colors that are unique to your region?
Soft greens and whites. Monochromes and single-flower arrangements. Back-to-basics loose and simple bouquets. Think of a handful of wildflowers; that's what a lot of brides are asking for.
Do you offer any services in addition to floral designs?
We sell plants and provide interiorscaping services. Placing plants inside people's homes and workplaces elevate their moods, cleans the air around them, and creates a more harmonious environment.
What tool in your toolbox can't you live without?

My laptop and phone. They keep me connected to social media, customers and the business (Gaia uses Quickbooks, Square Up, and its custom website).
What's your favorite flower?
Anything that is available in organic or certified sustainable.
Las Vegas Floral delivery
Any questions? Contact Gaia
HERE
Looking for Gaia? Here we
are
Or call for Las Vegas Floral delivery 702-997-0222