Plus, how to recycle your cut tree in Nevada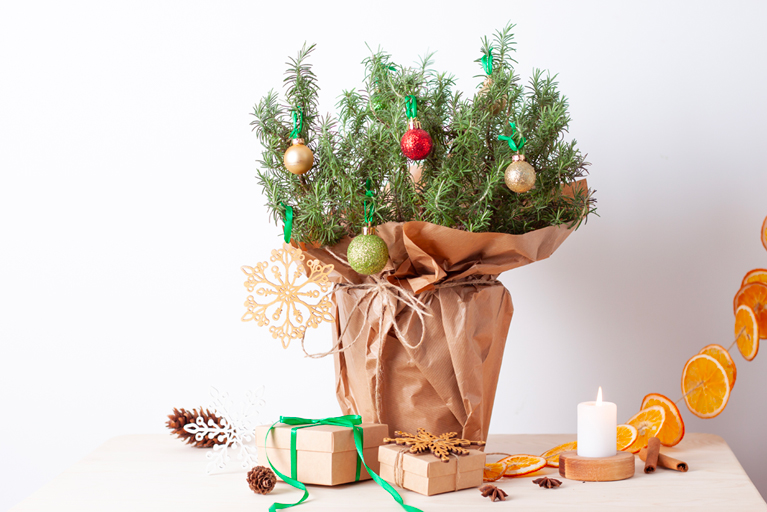 Not keen on adding more plastic to the planet this Christmas? Well, hopefully we can help.
This festive season we're looking at eco-friendly alternatives to buying a new plastic tree (or chopping down a real one).
If you've been following Gaia Flowers for a while, you'll know we care as much about looking after our precious planet as you do. So in this article we'll look at the environmental impact of real and artificial trees, and share some eco-friendly Christmas tree ideas that can bring your festive season to life without hurting our planet.
And if you do end up getting a real tree, we'll show you how to recycle it so it can keep on giving to your community. It is the spirit of Christmas, after all.
Let's get started.
The environmental toll of Christmas trees
For many of us, Christmas wouldn't feel the same if we didn't have a tree twinkling in the living room. Unfortunately, that tree costs more than just what you paid for it. Whether it's real or fake, it also has an environmental cost. And we'd like to talk about that cost before we start looking at alternatives.
Artificial Christmas trees
Artificial trees are usually cheaper in the long run. Unfortunately, the planet pays a heavy price for them. The main component is usually PVC, which emits dangerous levels of greenhouse gases when it's made. And while PVC can be recycled, Christmas trees are usually made of composite materials, which makes it harder to recycle them.
Another problem is that most of these trees are made in China, South Korea or Taiwan, so shipping them to the US leaves a heavy carbon footprint.
The Carbon Trust estimates a carbon footprint of around 40kg of CO2e (carbon dioxide equivalent) for a two-meter artificial tree. That's more than twice that of a real tree that ends up in landfill, and more than ten times that of a real tree that's burned.
Real cut Christmas trees
In contrast, the estimated carbon footprint for a real cut Christmas tree that's 2 meters tall (without any roots) is 16kg CO2e if it ends up in landfill. That's because as the tree decomposes it produces methane, which is 25 times more potent as a greenhouse gas than carbon dioxide.
But there are some great ways to deal with your tree after Christmas other than just sending it to landfill. If you burn it on the bonfire, plant it or have it chipped into mulch, its carbon footprint drops from 16kg CO2e to 3.5kg CO2e – a whopping 80% drop.
Another advantage of real cut trees is they're usually grown here in the US, which means a much lower shipping footprint.
However, you need to consider how these trees are grown. They're not grown in natural forests, which have a complex ecosystem of interconnected animal, plant, insect and fungi life. No, these trees are grown in mono-crop systems, where they often use controversial pesticides such as glyphosate. And the effect these systems are having on our natural environments is becoming increasingly clear.
So while a real cut tree is generally considered to be more eco-friendly than a new artificial one, you still need to consider its environmental impact.
Eco-friendly Christmas tree ideas
There are many ways to celebrate and feel festive this Christmas with a beautiful tree. So get creative – you may be surprised at what you come up with. And if you have children, see what they can suggest.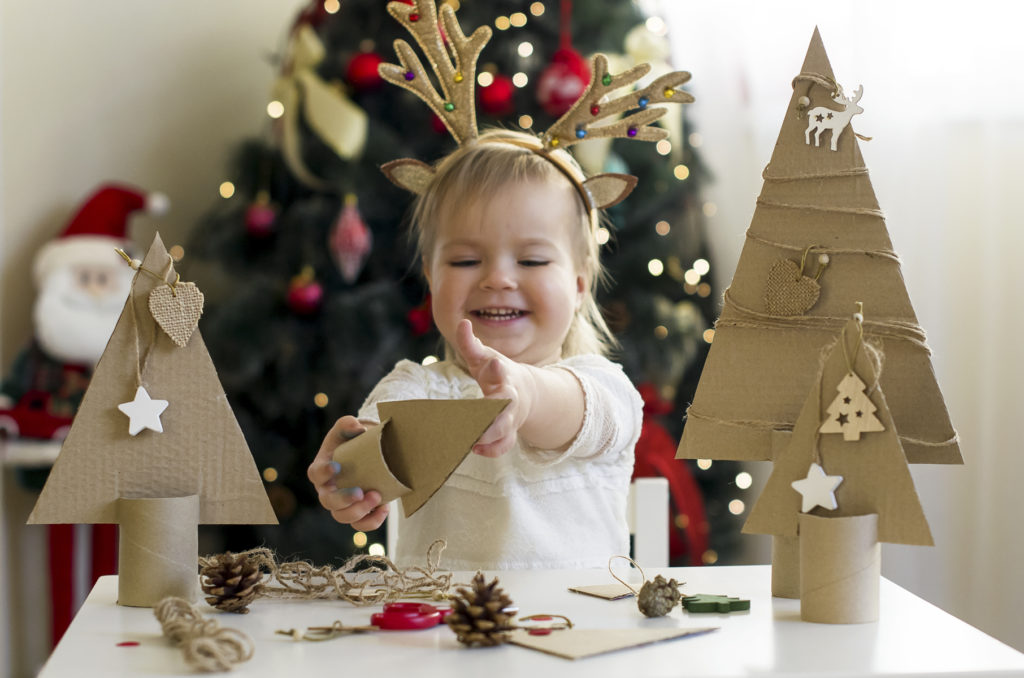 To help get your creative juices flowing, here are 6 ideas for an eco-friendly Christmas tree.
Decorate a tree you have growing in your yard
Who says your Christmas tree needs to be indoors? Why not try breaking with tradition and starting your own? It can be kinder to that planet and a lot of fun.
Decorate a favorite tree in your yard. Maybe it's the one your family planted when your beloved pet passed away. Or perhaps you have a plant that's been there as long as you have, and has witnessed your ups and downs over the years. Adding a layer of sentimentality to your new tradition can make it feel even more special. Find some outdoor lights and enjoy the festive feel it brings to your garden.
Buy a second-hand or vintage artificial tree
Buying a second-hand artificial tree is a good way to get the convenience of an artificial tree without the emissions. Try looking on eBay, Craigslist, Facebook Marketplace and thrift stores for a second-hand tree and decorations. You may even find a little of the Christmas magic still lingering.
But you need to be careful. While buying second-hand can make for an eco-friendly Christmas tree, make sure you know how old it is. There was a time when manufacturers used lead to make the needles. Unfortunately, lead has a range of harmful health effects. And according to a 2008 report by the US Environmental Protection Agency, it starts breaking down after about 9 years. (Newer trees are made with tin rather than lead.)
And if you have an artificial tree you're no longer using, you can sell it and keep the circular economy going.
Buy a potted tree you can replant and reuse year after year
If you have a garden, you could try using a live plant in a pot that you can replant after Christmas. And it doesn't have to be a typical Christmas tree either. Something that's equally at home in your garden and your house (such as our Rosemary plant) can be enjoyed for years to come.
Of course, it will need a little extra TLC throughout the year. But as it adorns your home twinkling with ornaments, your loving care can add an extra layer to your Christmas cheer.
Use sticks or driftwood to make your own tree
Making your own eco-friendly Christmas tree can be very rewarding. And foraging for sticks or driftwood can become a great family tradition. (Oh, the satisfaction of finding just the right length!)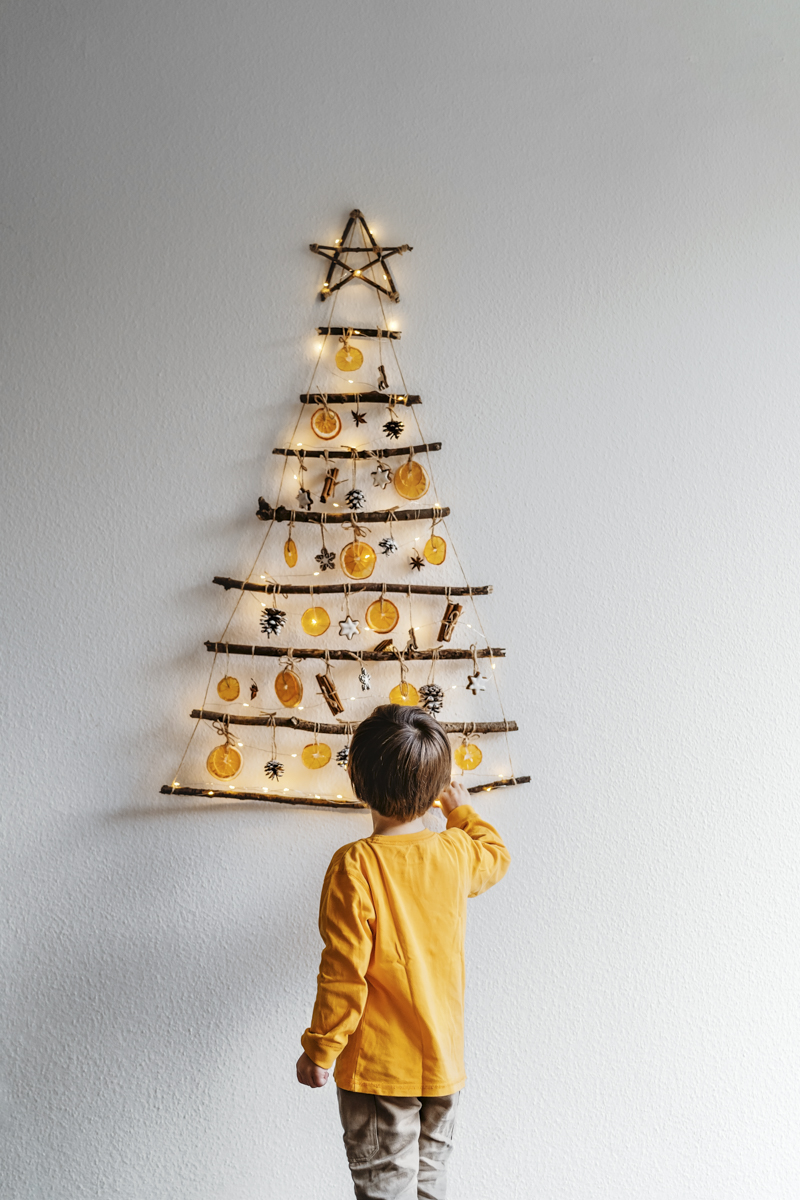 If you've got kids, it's a great activity to bring everyone together and get active outdoors. Trawling the internet will provide endless inspiration for sizes, shapes and designs. Decide on your favorite, and then off you go. Just make sure the timber is already on the ground. Don't cut any limbs from living trees.
Upcycle a wooden pallet
If you're OK with a hammer and saw, wooden pallets can be quite easy to build with. Using recycled pallets is a great way to inject personality and style into Christmas without adding to your carbon footprint. Use straight, symmetrical lines and gold trimmings for a touch of class. Or embrace imperfection and go for a homemade-with-love feel. Once again, Google will provide plenty of inspiring images.
Buy a cardboard tree (or make your own)
For a convenient Christmas without the added carbon footprint, try this range of cardboard trees on Etsy. Apart from the reusable and recyclable nature of the materials, Etsy also offsets all its emissions.
Of course, you could turn this into another family project and make it together out of cardboard you already have at home (eg appliance boxes). If you don't have any big enough for the size you want to make, try asking at some local businesses. They often have excess boxes they'd be recycling anyway.
A real living Christmas tree
A real living tree is by far the most sustainable option. Choosing a tree that keeps on growing is a great way to make your home feel festive while being reassured you didn't hurt the planet to get it.
These days you can easily find a real living Christmas tree in a pot. In Las Vegas you can find them at all the major nurseries and home stores. And once Christmas is over, you can nurture your tree in the garden until it's time to bring it inside and festoon with lights and ornaments again.
Generally speaking, Christmas trees in pots aren't grown to the same scale as the trees in plantations, where they're designed to be cut down. The potted varieties are usually grown in dedicated nurseries, often as a side business for a small farm.
But as with other types of tree, it's good to know where yours came from and how it was grown. For an eco-friendly Christmas tree, try to source yours close to home and from a certified organic grower.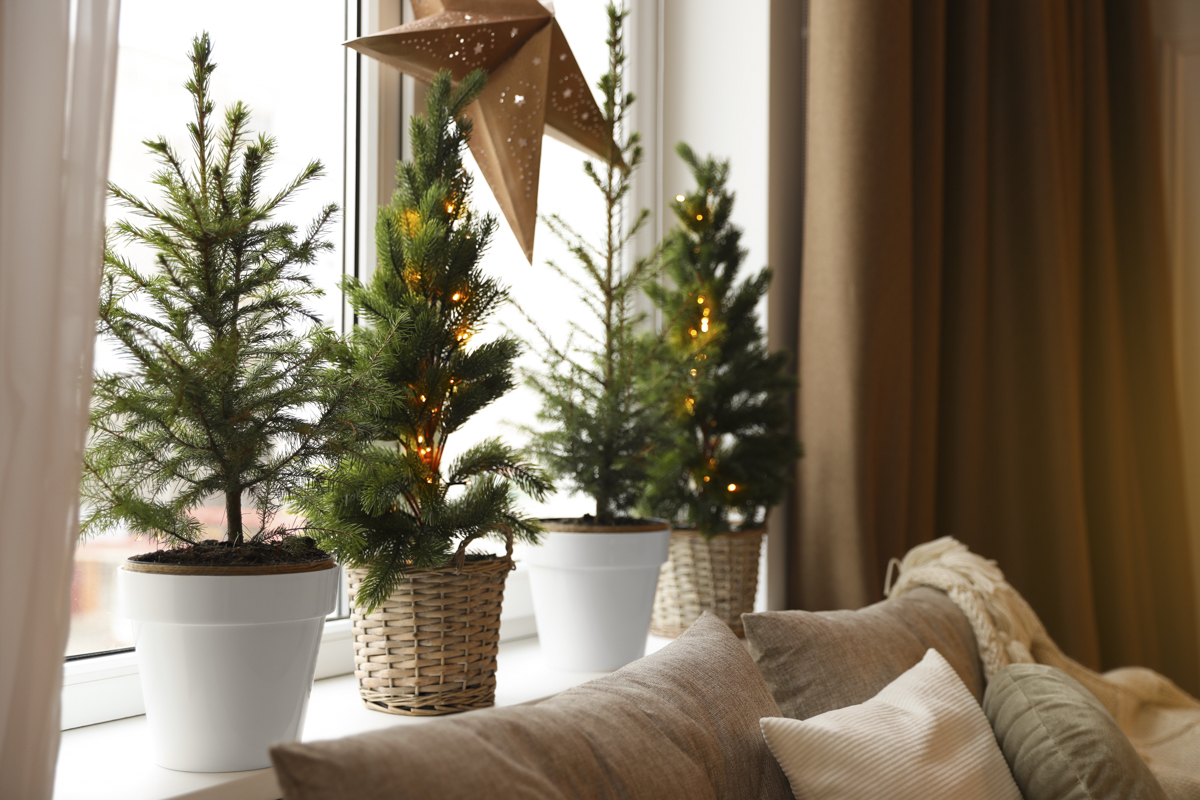 Christmas tree recycling in Nevada
The big day has come and gone, and the decorations are stowed away for another year. What do you do with your tree?
If you've chosen a real, cut tree you can recycle it by turning it into mulch. A few places in the Las Vegas and Henderson area will do this for you. Just make sure you remove all decorations, lights, wires, and anything else that's not organic. If you don't, they'll contaminate the mulch and could even damage the chipper machinery.
Since 2003, around 170,000 trees have been recycled through the Keep Truckee Meadows Beautiful Christmas Tree Recycling program. You can find out how to participate this year with the Nevada Department of Conservation and Natural resources. This program relies heavily on the thousands of volunteers and partners who help out. So if you've got the time and the means, why not volunteer to help out as well?
In or around Springs Preserve, try your local recycling program. There's also a useful list of drop off points. And to find out more about why you should consider recycling your tree, the University of Nevada has created a really useful resource detailing their program. (They also have a list of drop off points for Southern Nevada.)
Make this Christmas more eco-friendly
Don't limit your eco-friendly efforts to your tree. You can extend it to the types of gifts you give by being thoughtful and deliberate. For example, have you thought of giving a plant gift this festive season? It could brighten a loved one's home for years to come.