A step-by-step guide for first time plant parents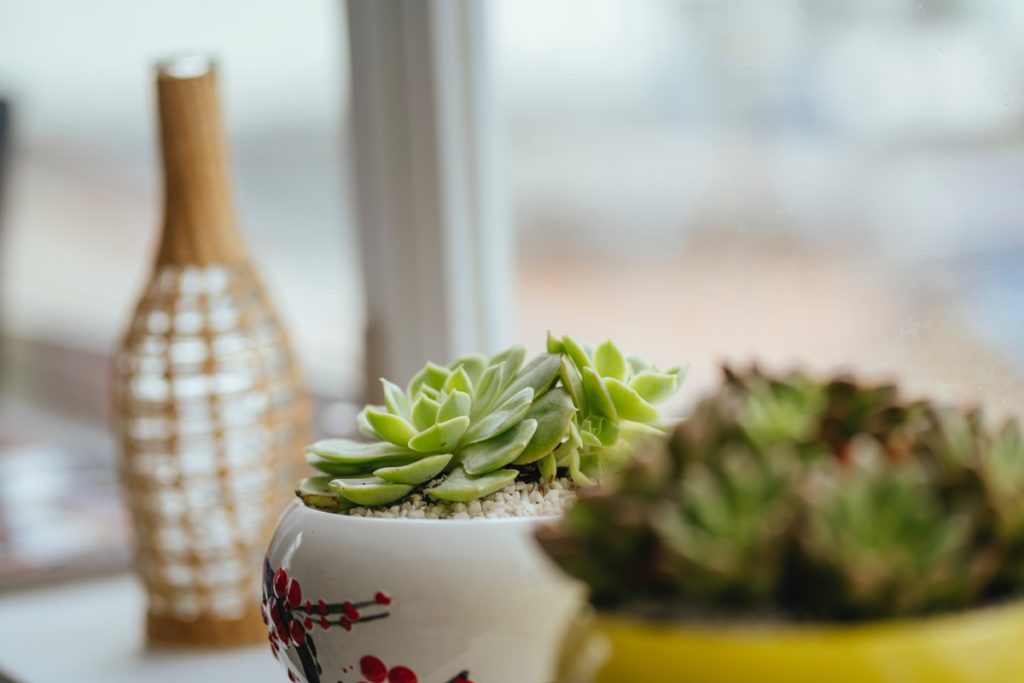 So you've got a new plant baby. But you're afraid it may not survive your loving 'care' because you're new to succulents?
Don't worry. We answer all your questions in this step-by-step guide to caring for succulents. So keep reading to find out how to keep your leafy addition not just alive but thriving.
The secret? It's simple. Understand their native habitat: warm and dry. Succulents usually come from regions with low humidity and rainfall, and they can't handle freezing temperatures. But with this guide you'll be able to keep them looking and feeling great no matter the season.
First up: where should you put them?
Choosing where to grow them
Find a sunny location. (Your new little mate likes a lot of light.) Windowsills can be a great choice, especially a south- or east-facing window. But be careful, as newly planted succulents can scorch in direct sunlight. Introduce them to the feel of warm sun on their skin gradually, or provide shade with a sheer curtain.
And what if they become a little spindly, or lean towards the light? It probably means they're not getting enough sun.
Having chosen your spot, it's time to make sure your soil is just right.
Prepare your soil and potting mix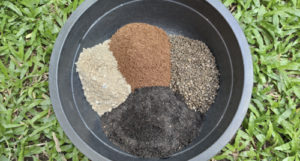 When caring for succulents, there's one thing to know about the soil: no two succulent growers will use the same mix. Fortunately, these plants don't mind as they aren't overly fussy. So while you should use the right basic ingredients and try to roughly follow our guide, don't stress about needing to be precise.
Here's a rough starting guide, which you can modify depending on your climate and conditions.
For most succulents
Mix two parts inorganic grit to one part organic (i.e. plant-based) material. Something like compost or coir (the fiber from the husk of a coconut) works well for the organic material. Or you can simply mix half-and-half bagged potting soil (which you can buy from any garden center or nursery) and pumice.
For fat succulents such as cacti and euphorbias
One part bagged soil to two parts pumice.
For thin-leaved succulents that don't store much moisture, such as dainty sedums
Two parts bagged soil to one part pumice.
Bagged cactus mix
So what about ready-made mix, often known as cactus mix?
If your cactus mix is high in pumice or perlite then you don't need to change it. Just read the label. And remember that if there's a high percentage of peat moss you may as well buy standard potting mix. (It's a lot cheaper.)
In most places, soil for succulents needs to be different to garden soil or they'll simply rot. Rot from overwatering is the most common problem new plant parents face when caring for succulents. The soil needs to be able to:
physically support your plants
hold enough moisture and nutrients
drain perfectly.
Another thing to remember is that what you use in the garden can vary from what you use in pots. If you'd like to learn more about caring for succulents in pots, read our guide.
How deep does the soil need to be for succulents?
Most succulents need only a 2-3″ layer of soil over their roots.
In general, the longer the stem, root, or part of the plant protruding from the soil surface, the more soil they're likely to need.
For example, succulents with a foot of above-ground growth should be planted in about 6 inches of soil. Aloes, aeoniums and agaves are often planted this way in gardens.
Caring for succulents: watering, how much is too much?
There are two big questions to answer here.
How often should you water?
Where should you pour the water?
Succulents can certainly tolerate dry periods. But they need more regular watering during the growing season (which is generally spring and summer).
Push your finger into the soil around your plant. If the top two inches feels dry, water the soil deeply (soak the soil until the water runs out of the bottom of the pot). And don't water them again until that top two inches of soil feels dry again. Most succulents grow dormant in autumn and winter, which means it's easy to overwater them during these colder months. But if you pay attention to the soil's dryness they'll be fine.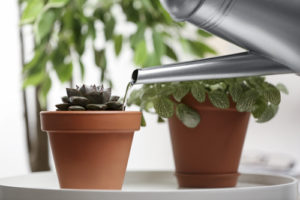 When it is time to water, make sure you pour the water directly onto the soil. Try not to wet the leaves, as this can lead to fungus and rot. And don't use a spray bottle to mist the leaves, because this can lead to moldy leaves and brittle roots.
The key takeaway for newbies?
Do not overwater. It's easy to give them a bit too much love, so always check the soil's dryness before watering. Caring for succulents sometimes means letting them do their thang without too much intervention. You can always whisper little love notes to them as you pass by.
Drainage
Having adequate drainage is a vital part of caring for succulents.
The first thing to do is to choose the right planter. While there are all kinds of beautiful ideas for succulent holders, some of them just aren't practical. As we said earlier, succulents won't survive in waterlogged soil. Terracotta pots are ideal for beginners because they absorb some of the water from the soil. And if your pot doesn't have drainage holes for some reason then you need to use less water to avoid the risk of rot.
The next thing to consider is your soil. Does it drain well enough? Succulents don't grow well in clay soil because, you guessed it, they can start to rot. So before you do any planting, check the drainage conditions of your soil. If you need to, go back and prepare the soil according to the tips we gave earlier so it drains properly.
Fertilizer: should you or shouldn't you?
Depending on your soil, you may not need to fertilize. If your plants are growing in fresh organic soil, they'll have plenty of natural nutrients.  But if they've outgrown their pots and become quite rootbound, then they'll probably really appreciate a bit of fertilizer.
When to fertilize
There are two good times to fertilize so you take the best care of your succulents – in spring (when daytime temps are above 60 degrees F), and in the fall just before big rain.
What to use as fertilizer
When caring for succulents in a pot indoors, you'll need to use a liquid fertilizer. Be careful. You'll only need about half of the dose recommended on the package.
There's a difference between liquid fertilizer (used in pots) and granular fertilizer (used on plants outdoors in the ground). So make sure you buy the correct type of fertilizer for your indoor plants.
How to apply fertilizer
Water your plants before you fertilize them. It will help spread your fertilizer out more evenly, and lower the risk of burning your roots. After watering, apply the diluted liquid fertilizer until it runs out the bottom.
What if you don't fertilize?
Good news: it doesn't really matter. Your succulents will simply grow faster and larger if you do use it.
Of course, you may not want this. New green shoots are more prone to damage from wind, sun and frost, and may need extra care (such as trimming). And if you're caring for succulents that need to stay small then you definitely shouldn't use fertilizer.
Is it OK to fertilize more frequently?
It depends on what you want from your plant. If you use a little bit of fertilizer with every watering your little babe will grow up faster. But your teenaged succulent will be 'soft' (a nursery term) rather than naturally tough or 'hard', which means it'll be harder to care for and more vulnerable to the elements.
Pests and diseases to look out for
Regardless of where you are in the world, your new addition can fall prey to pests and disease. The good news? There's plenty you can do to care for your succulent and keep it safe and healthy. Here's a few major things to look out for.
Rot
Serious
Rot happens when the succulent's roots sit in water, resulting in mushy tissue at its core. Sadly, if the core is mushy and the plant has collapsed, or the leaves have fallen, you can't save it. Chalk it up to a lesson learnt.
If you still have some healthy tissue, remove the plant and trim the damaged stems and leaves. Keep trimming until you have a clean, unblemished cutting. Plant it in new, well-draining soil and sing it a loving lullaby. (OK, the lullaby isn't essential.)
Scale
Serious
Scale insects latch onto the plant and consume its tissue. They look like gray, white or brown dots peppering the succulent's skin. Protected by their own natural armor, they're very hard to get rid of. It's usually best to bag the plant and put it in the trash to stop them spreading to other plants. You'll need to clean the area around where it was, and leave the pot empty for six months or so.
Aphids and Thrips
Usually not serious, but can cause distorted growth
These pests go for the juice inside new leaves, flower stems, and buds. Ants also get involved sometimes, placing aphids on plants so they can feed on the bugs' sticky secretions.
The good news is you can treat it. Blast the pests with a strong spray of water and remove any severely infested parts of your plants. Can you see any remaining aphids? Spray them with Isopropyl alcohol and come up with a way to stop ants getting to the plant.
The good news? This tends to be less of a problem indoors, although it's still something you should look out for.
Fungus and Mildew
Serious, and persistent in damp climates
Most succulents need low humidity, good air circulation, infrequent watering and nights that are colder than days. If they don't live in these conditions they can become susceptible to mildew and rot. You can use a mildew spray to treat it, but the problem will probably persist.
Animal damage
Animals such as rabbits, deer and squirrels can damage your succulents. If you have these animals in your area, try protecting your succulents by using an owl box, spraying a repellent or dusting them with crushed red chilis when you put them outside.
Extra tips for keeping succulents and cacti indoors
Caring for succulents or cacti is pretty simple. Make sure they get enough light, don't overwater them, and put them in a spot with good airflow. Here are a few other things you can do to keep them in tip-top shape.
1. Rotate them often
If your plants are sitting in the same spot every day, only one side will get enough light. The answer? Rotate them often. It will also help them to grow straight because they always stretch for the light. (If your plant is leaning too much, you probably need to move it to a sunnier spot.)
2. Keep your succulents clean
When you care for succulents indoors, their surface can get dusty – just like every other surface in your house. This can inhibit their growth, so keep them clean by wiping the leaves gently with a damp cloth. (You can also use a soft paintbrush for those hard-to-reach places.)
3. Understand the seasons
Understanding that succulents go dormant in winter is really important. It means they'll need less water, so make sure you use the soil dryness test and water them only when they need it. As spring rolls back around your succulents will begin to grow again, which means they'll need more water and more light.
It's also a good time to check whether they've outgrown their pot.
4. Do they need repotting?
Consider whether your plants need repotting so they can keep growing. If you see roots coming through the bottom of your pot, or the pot has become tight and the soil drains quickly, it's probably time to repot your little friend into a larger pot. They'll thank you with a big sigh of relief and a solid growing season.
Good luck
You're now armed with all the knowledge you need to grow and care for succulents. And once you've mastered that, the next step is to propagate them so you can enjoy having more little succers to care for. Or even give them as gifts to friends and family. Follow our step-by-step guide to propagating succulents.