Wedding Bouquets
Gaia Flowers has over 30 years of experience designing the most beautiful wedding bouquets.
Las Vegas' best wedding coordinators trust us to make floral designs that will complete the perfect wedding for any couple. We can help you design the most beautiful flowers for your wedding theme.
Book with us and your wedding florals are in safe hands.
Showing all 6 results
Some couples have a clear vision of their dream wedding—they know the color scheme and what their wedding flowers should look like. They know the types of flowers in season. They have a vivid vision for the flower arrangements for the bridesmaid bouquets, the bride's bouquet, or the groom's boutonniere.
The wedding florist's job is merely to make their vision a reality.
Meanwhile, some couples come to a wedding florist needing inspiration.
The bride and groom may not know yet which wedding flowers will match their color scheme. The bride may still need to choose between a cascading bouquet or a hand-tied bouquet.  The expert florist's job is to inspire the couple with wedding flower ideas for their big day.
Whichever case sounds more familiar to you, Gaia Flowers is the local florist to turn to.
Questions to answer and things to consider about wedding bouquets
Q: How much do wedding bouquets normally cost?
A pre-designed wedding bouquet typically starts at $85. Depending on the size, design, floral components, a custom floral design by a professional wedding florist typically ranges from $145 to $185.
Q: What is the most popular bridal bouquet?
Gaia Flowers creates unique flower bouquets for each client to suit their wedding theme and style.
The most popular styles we create include succulents, garden style, and organic bouquets.These floral bouquet styles are quite versatile, so they can fit your wedding theme perfectly.
Q: How should you choose color themes
Chances are that you have chosen a color scheme for your wedding. Our florists recommend the 70/20/10 scale, which we use as well, in choosing the palette for your floral arrangement.
70% of the design will feature the main color, 20% will be the secondary color, and 10% will be the accent color.
Q: What types of questions will your wedding bouquet florist ask you?
Your wedding bouquet florist will ask you questions to understand the kind of floral wedding arrangement that fits your vision. Be prepared to answer the following questions:
-your budget for the floral arrangement
-season of your wedding
-whether you prefer a classic round, cascade, or garden style (asymmetrical) bouquet

-if you will need wedding centerpieces and boutonnieres
-your wedding style and color palette
-the wedding venue
-any flowers you like or dislike.
Q: How far in advance do you need to order?
We customize each bouquet for our clients, so we do need at least 2 weeks of lead time to prepare a bouquet and boutonniere.
If you need more items designed, such as bouquets for bridesmaids and décor for the venue, we require at least a month or longer to prepare. Of course, a longer lead time will be appreciated.
Consider a Custom Wedding Bouquet for your Wedding
No two weddings are the same, and custom wedding bouquets reflect this truth.
A custom wedding bouquet is a floral arrangement that a florist does from scratch. It is highly personalized and based on your vision, wedding colors, and style.
Our wedding florist works closely with couples to understand the kind of floral design they want or help them find a wedding bouquet that suits their wedding style.
You can ask to have a specific flower featured, for instance, to make the bouquet more personal to you. Our custom wedding bouquets are meant to provide couples with flowers they will be proud to carry down the aisle.
Gaia's custom wedding bouquets are all about creating the perfect floral arrangement for each couple. These bouquets are not meant to be more expensive than pre-designed bouquets.
Our custom wedding bouquets are made by professional florists with utmost care and artistry, with consideration for your style and ideas.
We focus on designing floral arrangements that compliment your wedding gown and wedding theme and complete the wedding of your dreams. You can have the floral arrangement you want on your wedding day without compromising your budget.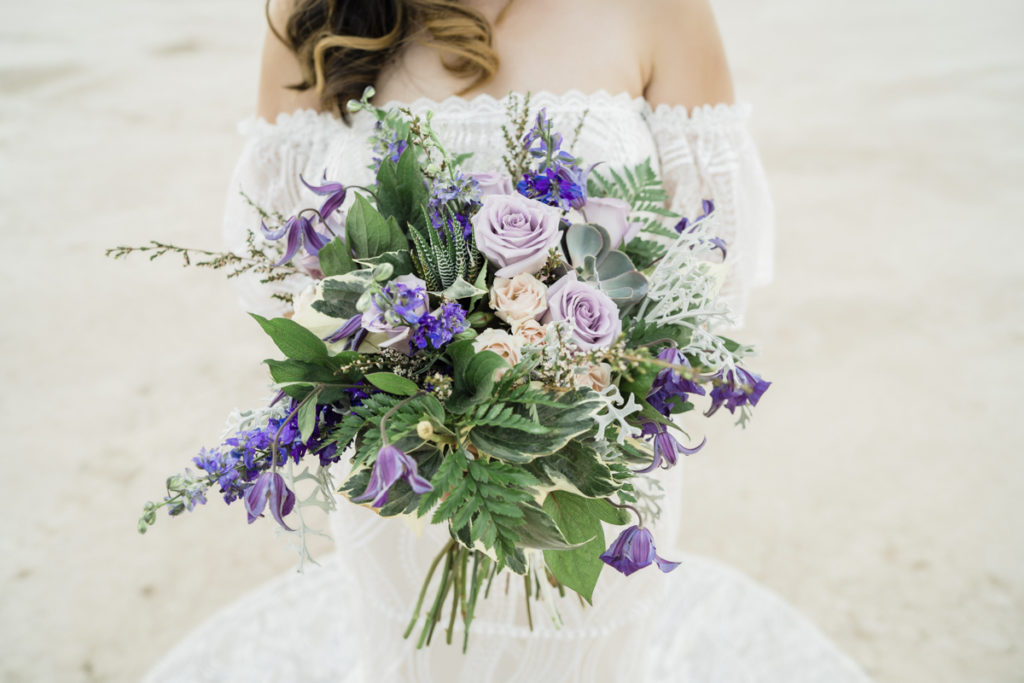 Custom beautiful bouquets are not a luxury only a few can afford because it is not an additional expense with us.
Gaia Flowers offers custom floral arrangements for couples who know exactly what they want or simply want a unique design to surround them on their special day.
Take the leap and book a custom wedding bouquet with us.