The first week of May is Teacher Appreciation Week. This year it runs from May 8 to May 12, 2023. But what exactly is Teacher Appreciation Week? And why is it worth celebrating?
Our teachers give so much, and this is our chance to give back
We're fortunate to live in a country that encourages education for everyone and caters to different learning styles. It's a privilege. And the teachers who facilitate our freedom to learn and develop to our fullest potential are magical.
While I've never been a teacher myself, I've known plenty of them. And I understand it's a profession that's as exhausting as it is rewarding.
As if being responsible for shaping the minds of the future wasn't enough, educators are asked to do a lot more than just stand at the front of the class. The marking, planning, emotional support (for pupils and their families), and tireless energy and enthusiasm they give day after day are just some of the ways they go above and beyond. They often receive little thanks, and compensation that doesn't even begin to reflect the magnitude of their workload.
It's not a career I could do.
So why not dedicate a week to saying "Thank you" to these amazing people?
How to show your appreciation
Whether it's your kid's teacher, your former teacher, a mentor, or a partner or family member who works in education, there are plenty of ways you can show your appreciation.
First, check whether their school is organizing anything. They may be asking for contributions towards something they've planned – a food drive to provide teachers with lunch for the week, or massage therapists in the teachers' lounge. Or they may be setting up text lines or post boxes so pupils and parents can send supportive messages that are then distributed to teachers throughout the week.
If the wider school community doesn't have anything planned, or you want to say a personal "Thank you" to a teacher, you might want a gift that's just from you.
But what exactly makes a good teacher gift?
10 eco-friendly gift ideas for teachers
As a sustainable, eco-friendly florist, we think the best gifts are those that have the smallest environmental impact without sacrificing big smiles from the recipient. So with that in mind, here are 10 of our favorite eco-friendly gifts for teachers.
1. A bouquet of seasonal flowers
Flowers that are in season can be cultivated using less energy than out-of-season blooms. They'll also be more readily available. This means local suppliers are more likely to have them in stock, cutting transportation distances and reducing CO2 emissions.
Flowers that bloom in May include:
carnations
roses
tulips
irises
freesia.
If your teacher lives or works in Las Vegas, you can order one of our Just For Them arrangements. Let us know if you want us to use only in-season blooms. We'll make a unique arrangement and then deliver it to your teacher's school.
2. A house plant or succulent
The great thing about house plants and succulents is that many of them are very low maintenance. So no matter how busy your teacher is, their house plant will survive if they miss a watering or two.
Some are even hypoallergenic so your teacher can safely have them in their classroom.
3. Create a nature collage
This is a great one for elementary school kids. Forage for materials in your garden, local park, or beach, and encourage your little one to collect items they find on the ground such as:
interesting looking sticks,
leaves
feathers
stones or pebbles
pine cones
tree bark
shells
sand
small flowers.
When you return home, use what they've collected to create a collage card or artwork and then write the teacher's name or a special message somewhere on the page.
4. Personalize a plant pot
If you're a pupil with artistic flair, create a truly unique gift for your teacher by personalizing a plant pot. Grab a second-hand pot from a thrift store, or see whether you have any unused ones in your garage or garden. Then get to work with your paints and pens.
Like the idea of gifting a plant pot but don't feel particularly arty? Then support a local business. We stock a collection of vases and pots from Las Vegas pottery artist Katie Castro Pottery. Visit us in store to see the collection.
5. Send an e-card or email
Brighten up your teacher's inbox by sending a "Thank You" ecard or writing an email to show your appreciation. Maybe you can tell them about a particular lesson you enjoyed, or why you enjoy their class in general.
By sending your message electronically, you'll not only give them something to read that isn't yet another report or staff meeting reminder but also help save a tree.
6. Gift them a second-hand book
Similar to greetings cards, printing books requires trees to be felled. And while we appreciate that turning the pages of a crisp, new book is one of life's little pleasures, giving a second-hand book a new adventure can be just as magical.
Perhaps there's a book sitting on your shelf that you enjoyed, and now is the perfect time to pass it on. Or you could head to the thrift store for a rummage in their pre-loved titles. The joy here is not quite knowing what you'll find.
7. Plant a tree in their honor
For those extra special teachers, choose a dedication that will last long beyond their teaching years. If the school will allow it, arrange to have a tree planted in honor of your teacher on the school grounds.
If planting on school property is a no-go, then try The Trees Remember. For just $27 a tree will be planted in a US National Forest in celebration of your teacher.
Want to double your do-gooder marks?
Las Vegas spa product company Hemlock Park create eco-friendly body products and scented candles made from coconut wax. Their gift sets and products are perfect for teachers who could do with some time to de-stress at the end of the school week. (We expect this to be most teachers.) But along with being vegan, cruelty-free, and made using natural ingredients, they've also partnered with One Tree Planted.
This means Hemlock Park has pledged to pay for one tree to be planted for every product they sell. So not only will your teacher get some swish spa products, you'll also be helping to reforest the world.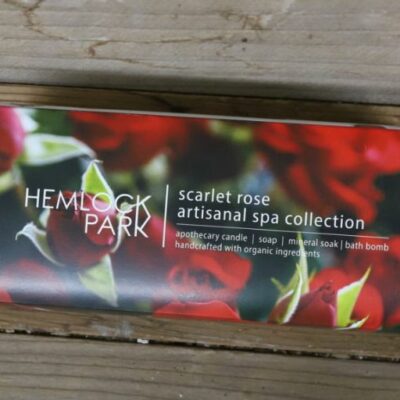 8. Make a local, sustainable business gift basket
Support stores that are close to you and stock sustainable goods to create a personalized gift basket. We're thinking homewares, clothing, soaps (or other cosmetics), jewelry, or even food made by nearby crafters and artisans.
9. Bake something delicious
Home cooking always tastes better. And yes, that includes even the simplest chocolate cornflake stacks. Whether you bake cakes or cook something yummy for your teacher to enjoy on their lunch break, the thoughtfulness, care, and time you put into cooking for them will be appreciated.
10. Top up their eco-friendly stationery supplies
If your teacher loves their stationery, why not create a gift bundle of items that are planet-friendly? You could include:
pens and pencils made from recycled card or paper
a reusable rubber stamp rather than stickers
notebooks made from recycled paper
biodegradable washi tape
refillable bamboo biros
a staple-less stapler.
Saying thank you doesn't have to cost the earth
It's lovely to give gifts as a way of saying "Thank you" during Teacher Appreciation Week. And the current climate crisis means that on these occasions, reducing the environmental impact of those gifts is even better.
But perhaps the simplest, most affordable, and ultimate eco-friendly way to show your teacher you appreciate them, is to actually say "Thank you." I have it on good authority that taking time out of your day to tell your teacher what you like most about their class is the sort of gesture they'll remember for their whole career.
Enjoyed this article? Then you might also enjoy 10 simple Earth Day values you can start using every day.