And how to keep floral decorations affordable
Flowers bring a freshness and liveliness to event decorations that balloons and streamers can't match. A flower's shape, color, and scent, as well as where they're placed and how they're used, can set the perfect tone for your celebration. Want a playful, upbeat vibe? Go for bright and bold Insta-worthy floral frames. Or for something more chill, choose a pastel-colored living wall that oozes simplicity, beauty, and serenity.
If you're thinking of organizing flower decorations for your upcoming event, this guide covers:
celebrations that commonly use floral decorations
15 ways to work flowers into your event design
affordable event flower ideas
what to do with your arrangements afterwards
where to find even more party flower inspiration.
A more environmentally friendly alternative to balloons
If there's an opportunity to reduce plastic waste, you should seize it. And party decorations are one such opportunity. Flowers are far more environmentally friendly than balloons. And while we acknowledge that cultivated flowers have an environmental impact:
4 ways to keep your event flowers eco-friendly
Buy from a local nursery or florist. Sourcing a sustainable florist is even better.
Choose blooms that naturally come into season at the time of your party.
Use plants rather than flowers wherever possible. They can then be repotted after your event.
Avoid using foam in your arrangements, as it breaks down into microplastics. Use old mason jars or second-hand vases instead
Flowers are also compostable, so they can give back to the earth in ways that plastic decorations can't.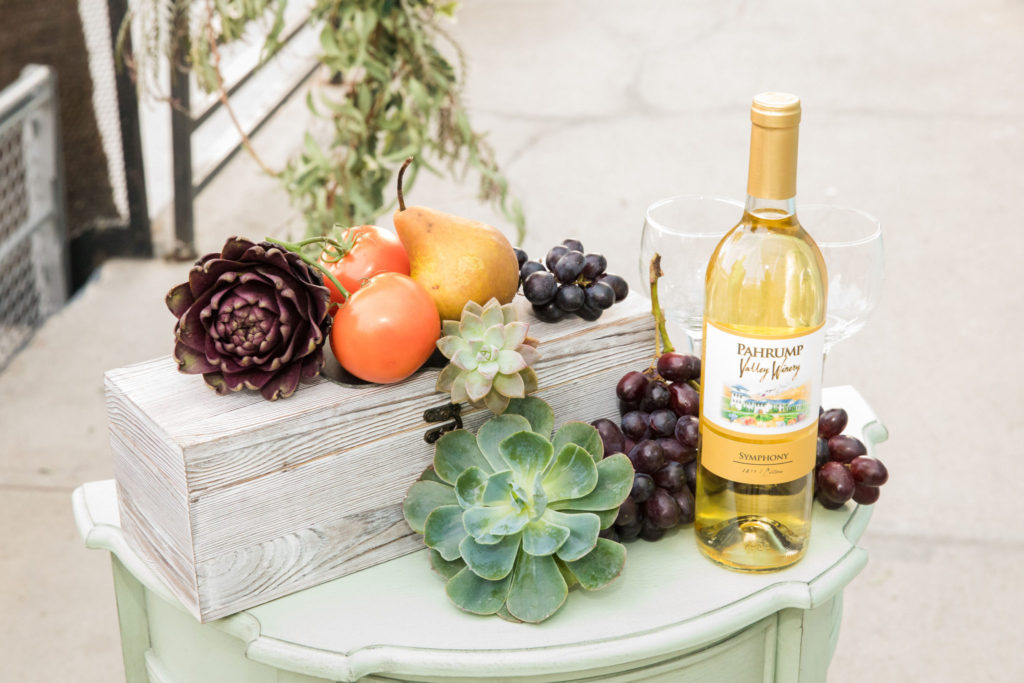 Celebrations that commonly use flowers for decoration
Weddings and funerals are synonymous with floral decorations. But flowers can be used to dress up a space for whatever milestone life event you're organizing. We're often asked to provide flowers for:
weddings and vow renewals
birthdays
graduation parties
bar and bat mitzvahs
quinceañera and sweet 16
Christmas parties
baby showers
engagement parties
retirement or new job celebrations
dinner parties.
The type of event, its size, and the theme or style of the party all influence how flowers are used to decorate it. With a little inventiveness, you can use plants and flowers in some very fun and stylish ways. The best bit? Some ideas are extremely budget-friendly.
15 inspiring and beautiful ways to decorate your event space using flowers
Here are some ideas to inspire your floral decorations. Where possible, we've provided an estimated cost and highlighted the more affordable options.
Table décor
Dress your sideboards and your buffet, serving, dining, gift, and guestbook tables with florals.
Small centerpiece arrangements
Including a small selection of blooms and greenery, petite centerpieces can cost $30-$60 per arrangement. They work well on round tables of up to 6 places, placed intermittently on long banquet tables, or as an extra dressing on sideboards and gift or guestbook tables.
Floating flowers
We love this idea of floating florals in large hurricane candle holders. For a more eco-friendly approach, replace the bubble wrap with decorative flat glass beads or pebbles to anchor the flowers. Blooms that look especially striking in this design include orchids, calla lilies, and roses.
Succulent pots or terrariums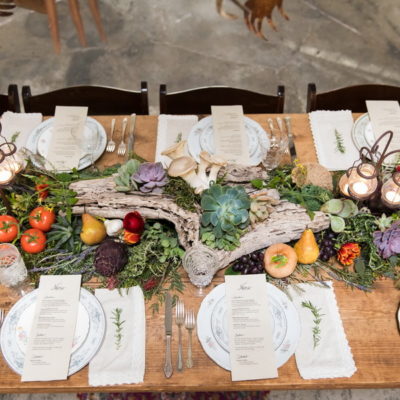 Have fun with a pick-and-mix selection of succulent pots. Place clusters of potted succulents around your event space, or use a wider pot or terrarium for a bigger stand-alone effect. Expect to pay around $20 per pot, or start propagating your succulents if you already have some in your garden.
⭐

Budget friendly floral idea: Napkin and place-setting dressing
Add a sprig of rosemary (or any other herb of your choice) to napkins, or to dress plates and dishes already on the table. Not only will this work perfectly with your foodie setting, the scent of the herbs will also add to your guests' culinary experience.
Event stationery
Set the tone of your event before the special day. Include printed floral decorations on the invites. Ideally, the graphics should match your overall theme. If time is on your side, dry and press small flowers to use on your event stationery. They can be used on invites and RSVP cards, and later on name cards for table places and gift bags on the day itself.
Wearable flowers
Fancy some dress-up fun? (And turning your guests into walking decorations?) Then choose a wearable flower option.
Flower crowns
These are great for festival-themed parties, garden parties, and even children's birthdays. Hand out flower crowns at the start of your event, or dot them around your space for people to pick up and photograph themselves with. Simple flower crown designs can cost as little as $35 per crown, with the size and choice of flowers and foliage determining the price.
⭐

Budget friendly floral idea: Corsages
Made with one or two blooms and a small amount of foliage, wrist corsages in neutral tones will complement any guest outfit, enhance your party's floral theme, and become a beautiful take-home gift.
Flower garlands
At the pricier end of the wearable flower options are garlands, which are estimated to cost $85 per garland. Fragrant and bright blooms such as orchids, carnations, jasmine, and plumerias are most commonly used.
Flowers for photos
When celebrating a milestone event, you'll want photos to remember the day. Encourage your guests to get snap happy by providing beautiful floral backdrops.
A living wall
There are different interpretations of a living wall. They can be all green, rows of plants in pots, all flowers (the expensive option), or a combination of flowers and greenery. A living wall of fresh plants and flowers can cost hundreds of dollars. Some party supply companies offer living walls for hire (some real, some faux), which may be a more suitable option.
⭐Budget friendly floral idea: Flower Frames
Pick up some lightweight picture frames from the thrift shop and decorate them with flowers. You could weave flowers around the edges, or secure them in one or two corners using twine. The cost of the frame, flowers, and whether or not you ask a florist to prepare them means you can expect to pay anywhere between $75 and $100 per frame.
Arches and arbors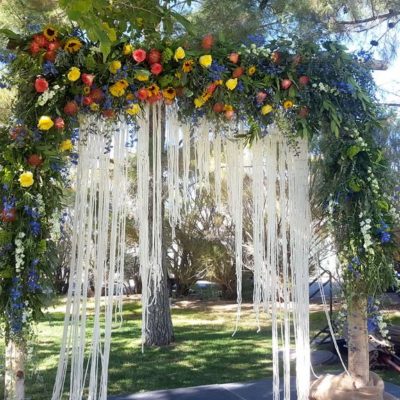 Ideal for outdoor event spaces, flower arches and arbors are the perfect statement décor. They're also a wonderful frame for guest photos. Again, these arrangements are on the pricier end of the scale. But you may be able to save some money if you already have an arch or trellising you'd like your florist to work with.
⭐Budget friendly floral idea: Cake and dessert decoration
Adding edible or non-edible blooms is an affordable way to include flowers in your party décor. Bear in mind that you may need your florist and cake provider to work together so their designs are harmonious.
Hanging decorations
Break the tradition of having your floral decorations in pots or vases with these hanging flower ideas.
Floral chandeliers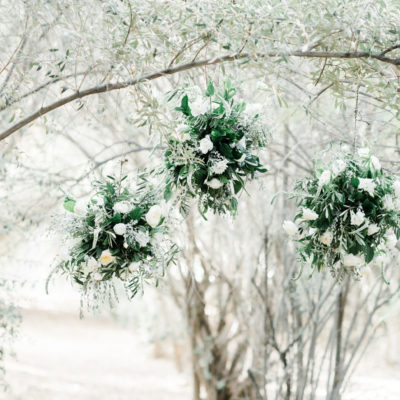 Make the most of your indoor event space by adding floating greenery. Pots in macramé hangers will bring a modern boho or coast vibe to your party décor. Or go all out with an expansive hanging floral installation.
Delicate hanging flowers
Simple and delicate in design, we like this hanging flower idea from Hooray Mag. But rather than using fishing line, choose a natural fiber string such as twine. This will make your installation more environmentally friendly.
Use the flowers to cover doorways you don't want guests to walk through, brighten up a blank wall, or fill an empty space.
⭐Budget friendly floral idea: Frozen edible florals
Pretty up your ice buckets and your guests' drinks with edible flower ice cubes. All you need are some edible flowers, such as violets and pansies, and ice trays. On the day before your party, take the heads off your small flowers and drop them into your ice trays. Then fill them with water and let them freeze.
Making the most of your party flowers
Some of these party flower decorations will only look their best until the end of your event. Others should last long after the celebrations are over. So what can you do with the arrangements you're left with?
Your first choice could be to gift them to guests. As the event starts wrapping up, give everyone the opportunity to take home any small arrangements, wearable flowers they've been sporting during the party, or small potted plants.
If your guests don't take them, there may be a local scheme that regifts event flowers to hospitals or nursing homes. Or you could simply enjoy them in your own home. You could even dry them out and use them again at your next party as a dried flower arrangement.
Be inspired
Now that you have an idea of how to decorate any celebration with flowers (not just weddings and funerals) you may be ready to start thinking about the types of flowers you want and how you'd like them arranged.
For design and color inspiration, follow us on Instagram and pin us to your party planning Pinterest board.