It's tough to write about the climate crisis and the impact Christmas has on the environment. Even with the best of intentions, it's hard to not sound like The Grinch.
But when the Geneva Environment Network estimates that 11 million metric tons of plastic enters our oceans each year, it's hard to suddenly switch to merry-and-bright mode. Not only is it debilitating our ecosystems and marine life, it's also contributing to microplastics spreading over long distances.
As stores fill with fake trees and glitter-covered decorations, we'd be burying our heads in the snow if we didn't acknowledge how much Christmas promotes plastic consumption. And as tempting as these items are, their production and short shelf life mean they'll leave a mark on the planet well beyond the 12 days of Christmas.
Thanks to the ever-increasing movement from eco-warriors, environmentalists, younger generations, and conscientious businesses such as Gaia Flowers, there are more ideas than ever for having a plastic-free (or at least a plastic-less) Christmas.
If you'd like to play your part in tackling the overproduction of plastic and its effects on the planet, here are our 25 favorite ways to minimize the season's impact on the planet and still enjoy a beautiful Christmas.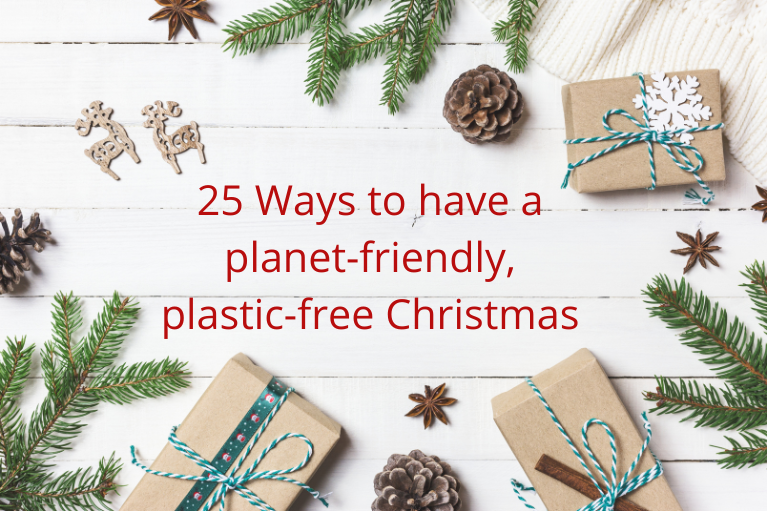 Choose an eco-friendly Christmas tree
When you put up your tree, choosing who decorates it and what goes on top are often tied to strong family traditions. But maybe it's time to start some new tree traditions with a more eco-friendly approach.
For example, why not decorate a tree you already have in your garden? You could also buy a potted, living Christmas tree that stays in your garden until it's time to deck the halls. Having a living tree means you can use it over and over again. As an added bonus, you won't need to battle the crowds at the Xmas tree nursery or have to worry about recycling it.
If an artificial tree is a must, then avoid buying a new one. Check out thrift stores and marketplace websites, or ask relatives if they have an old one you can use. This way you won't contribute to the production of a new plastic tree and the emissions that come with it.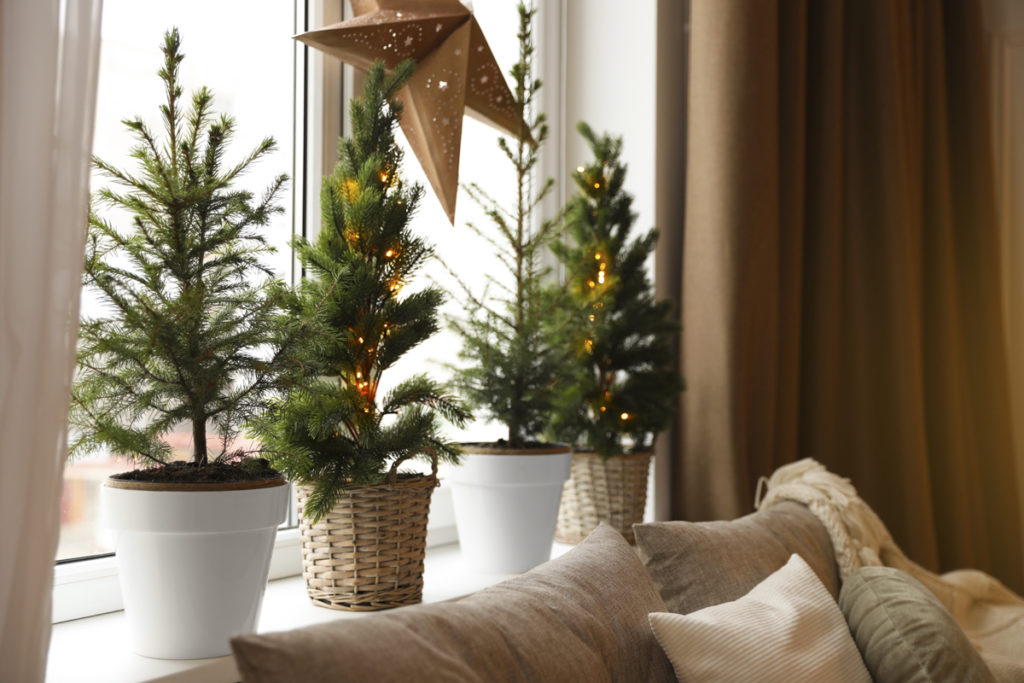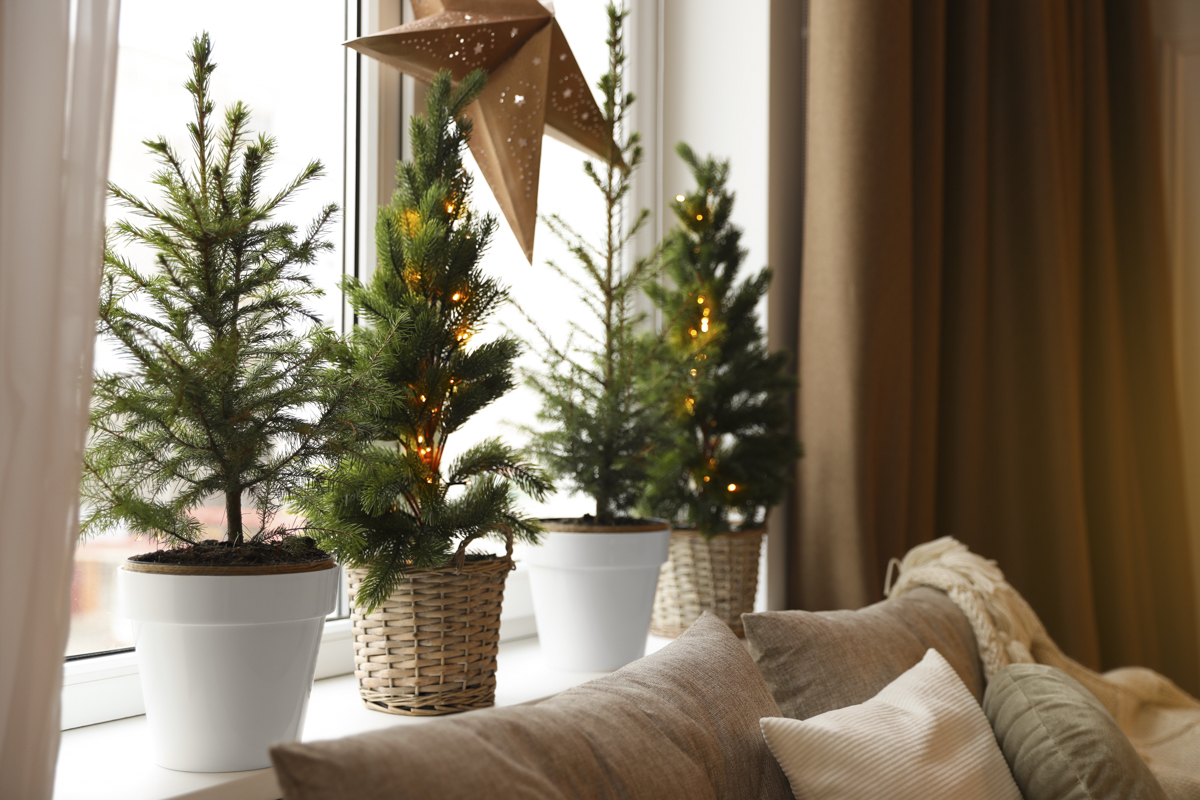 For more ideas on how to choose an eco-friendly Christmas tree, check out our blog.
Buy second-hand decorations
The great thing about thrift stores is they accept (almost) anything, including Christmas decorations people no longer want. At this time of year, your local thrift store will most likely have mixed bags of ornaments, tinsel, outdoor decorations, and snow globes you can buy.
Make your own decorations
Depart from the store-bought look entirely by crafting your own Christmas decorations. It's a great way to do your part for the planet and have something unique. Not sure what to make? Here are our suggestions for easy-to-create decorations.
Paper chains
This is a great option if the kids want to help with the Christmas decorations. Use odd scraps of paper, newspaper, and other recyclable colored papers to create lovely ceiling decorations. Just make sure the glue or tape you use is also planet-friendly.
Crochet ornaments
Perhaps you have a family member or friend who's talented with needle and thread who can make you something truly unique for your tree. If not, there are plenty of crafts stores and craft sellers on sites such as Etsy and eBay where you can buy crochet ornaments. You'll be supporting not only the planet but also an independent retailer.

Bunting
Make lengths of bunting using old fabric you've got lying around or offcuts from a fabric store. Even old, worn-out clothes can create some truly Christmasy decorations. Then again, who says your bunting even has to be in traditional festive colors? Use whatever colors will put you in a Christmassy mood.
DIY Christmas crackers
The crappy plastic prizes and jokes in shop-bought Christmas crackers leave a lot to be desired. So why not make your own, and include gifts you and your Christmas Day dinner guests will actually find useful?
We love this idea of using toilet roll tubes and other items you have around the home to make your own. Or check out this video on how to make Christmas crackers out of cloth napkins.
Wreaths
Festive wreaths can be incredibly eco-friendly if you use fallen items from plants and trees in your garden, local parks, and other green spaces. Don't pick or cut anything. Just use what nature offers you.
Wrap gifts with fabric, brown paper, or newspaper
Wrapping gifts in fabric is a win-win. It can be reused (perhaps for next year's bunting), included as part of the gift (if it's an especially nice piece of cloth), or kept to wrap presents the following year.
If wrapping gifts with fabric doesn't do it for you, then choose brown paper. It's recyclable and gives you the option to decorate it in a way that suits you. Or let the kids get creative and decorate it. The result will be a unique roll of wrapping paper that no one else in the world will have.
For an even cheaper and more eco-friendly Christmas, wrap your gifts in newspaper. You can often get it for free, and it can be recycled. Tying presents with brown string or twine is a great way to really set off this aesthetic.
Remember, there are also plenty of eco-friendly, biodegradable alternatives to gift wrap tape, available online or at your local stationery store.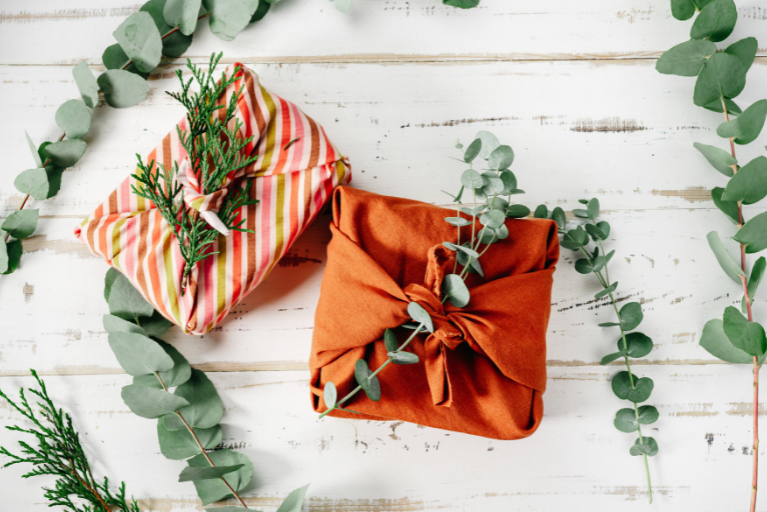 Avoid floral foam
Whether you're making or buying a festive floral arrangement, avoid floral foam to reduce your carbon footprint this Christmas.
Sadly, floral foam contains more plastic than 10 plastic shopping bags, is toxic to humans and animals, and doesn't biodegrade. Fortunately, we can help you with a festive floral arrangement that doesn't use floral foam.
Consider homemade or non-plastic gifts
Homemade gifts are not only incredibly planet-friendly, but also more thoughtful. Wondering what you could gift? Here are our ideas for homemade gifts that come straight from with heart.
Cooking or baking – If you've got a long gift list, do it in batches. Not only is it easy to double or triple your recipe, it's also a much more eco-friendly way to use an oven that's already heated and ready to go.
Knitting or crocheting – If this is a new skill you're learning then everyone will need a scarf (whether they know it or not).
Eco-friendly reusable gifts – Reusable water bottles, coffee cups, canvas bags, cotton produce bags, and silicone straws are just a few ideas.
Plants – Grow your own then propagate them, or buy them from a sustainable florist.
Natural items – Gifts made from wool, wood, and other natural fibers don't leave a mark on the planet, unlike those unwanted plastic gifts. Look for sustainable producers.
eGift vouchers – Many gift vouchers can be sent electronically, eliminating the need to buy an extra plastic gift card. If you'd like to give them something they can hold in their hands, print out the online voucher and give it to them. The paper can always be recycled afterward.
Buy a subscription (ideally to a sustainable business) – Our flower subscription service is one example. But there are also eco-friendly and ethical subscriptions for craft beers, socks, and even underwear.
Entertain the eco-friendly way this Christmas
Having a December full of get-togethers with family and friends can sometimes mean a shortage of chairs, cutlery and crockery, and glasses. Buying plastic plates, cups and the like is tempting. But rather than creating avoidable waste why not:
borrow what you need from friends
rent extra glassware or use old mason jars for drinks
do a thrift shop run to see what you can pick up on the cheap
use cloth napkins rather than paper, or turn old unwanted clothes and offcuts into napkins
find bamboo tableware rather than plastic.
---
Find out more about why we're doing what we can to reduce plastics, based on the Gaia Theory.