As the bride, your upcoming wedding is all about you and your partner. It's your special day. But when you think about it, you're probably coming up with ways to make it just as special for your nearest and dearest.
And probably none more so than your beloved bridesmaids. (Or bridesfolks, as bridal parties are becoming increasingly mixed.)
These are your besties – the people you want by your side the most. You want them to look good and feel great. And of course, their prime position by your side means they're going to be photographed. A lot.
From their wardrobe to their bridesmaid flowers, it's important for them to be photo-ready. And when it comes to bridesmaid flowers looking great both on the day and on film, we know a thing or two.
In our bride's guide to bridesmaid flowers, you'll learn:
whether your bridesmaids need bouquets
the significance of color
modern bouquet alternatives
the style differences between their arrangements and yours
how much you're likely to spend.
(If you're simply looking for bridesmaid bouquet ideas, jump to our gallery.)
Do bridesmaids really need bouquets?
The tradition of including flowers in wedding celebrations can be traced back to the ancient Romans. Blooming flowers signified fidelity and fertility, and were worn or carried by honored guests.
The idea of using flowers to identify people the couple considers significant hasn't changed. Brides and grooms still gift flowers to their nearest and dearest, which they can wear or hold at the wedding. It's a symbol to others that this person is a VIP.
One trend that has steadily changed is bridesmaids needing to hold a bouquet. Brides looking to dissent from tradition may gift maids with a corsage, a flower crown, or a floral hairpiece.
What colors to include in bridesmaid flowers
Your wedding theme and color scheme will influence the color and style of any arrangement. And bridesmaid flowers are no different. You may even be influenced by the symbolism of different colored flowers.
For example, white flowers typically denote innocence, and might be suitable for young bridesmaids. Yellow blooms represent friendship, while red is usually a symbol of romantic love, and so may look better in your bouquet rather than your bridesmaid's.
Do brides and bridesmaids have the same flowers?
You are the star of the show. With this in mind, it's traditional that your flowers will stand out from everyone else's. It's rare that the bride and maids will have exactly the same arrangement. But they won't be radically different either.
Generally, the bridesmaids will have a simplified version of the bride's bouquet. There might be a slight variation in color, arrangement complexity, or the type of fresh flowers used. Size-wise, the bride's bouquet tends to be a good third or half size bigger than a bridesmaid's, which is usually between six and eight inches in diameter.
Not having the same flowers for the entire bridal party is totally fine. In fact, one of the beautiful qualities of well-styled bridal party flowers is how they complement each other. The maid's flowers should ultimately amplify the bride's arrangement by mimicking its style.
How much are bridesmaid flowers and bouquets?
The cost of our bridesmaids' bouquets ranges from $55-$75. The type of flowers and whether they're in season or not will influence the price.
Most Gaia Flowers brides will spend around $65 per bouquet.
For those wanting something simple and affordable without sacrificing elegance, we suggest a three-rose arrangement with some greenery. This costs around $20.
Keep in mind that it's customary for you to cover the cost of your bridal party flowers. So make sure you factor this into your wedding budget.
Bridesmaid flower and bouquet ideas
Wondering what your bridesmaid bouquets could look like? Here's a collection of some of our recent and most popular designs.
Petite posies and simple arrangements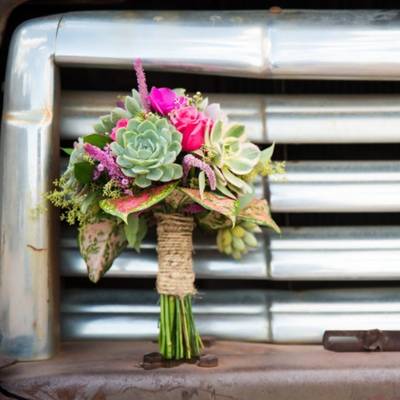 Loose and wild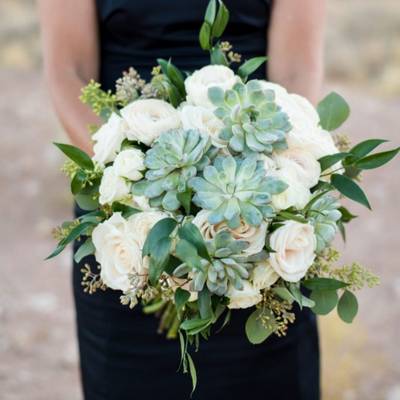 Playful hairpieces and flower crowns
Like what you see? Get in touch today and we'll happily help you with your bridesmaid flowers and bouquets. Tell us a bit about your wedding theme and some other particulars about your special day, and we'll provide you with ideas and a quote.