If you're interested in astrology, and often read your horoscope, there's a good chance you'll be curious about birth and zodiac flowers.
Birth flowers are thought to be the Earth representations of each zodiac sign. And each sign has more than one zodiac flower, as they have been chosen to symbolize one or more character traits of that sign.
In this article, we'll go through some unique characteristics of each birth flower, and how looking for inspiration from the zodiac can make for some truly beautiful floral gifts.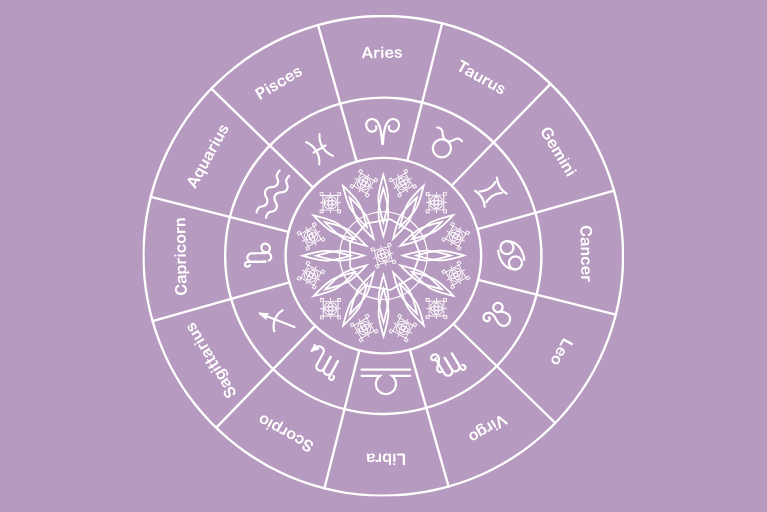 Understanding the zodiac calendar
The zodiac calendar starts on the first day of Aries (March 20 or 21), which is the Spring Equinox. However, when the equinox actually falls depends on how it intersects with the center of the Sun.
We also need to keep in mind that a true year on Earth is actually 365.25 days long. In the Georgian calendar, we make up for the extra day that eventually accumulates by having a leap year. This is why the first day of the zodiac can change from time to time.
Occasions for making the most of your birth flowers
Gifting someone their zodiac flowers on their birthday is the most obvious time to use these blooms. Knowing which ones are linked to their sign adds an extra thoughtful, personal element to the arrangement. And remember, birthday flowers aren't just for those of us who've had a lot of birthdays. You can send zodiac flowers to celebrate the birth or adoption of a little one too.
You may be looking into birth flowers for interest's sake. Or you may want to use your zodiac flowers to represent yourself better. Perhaps you want to wear clothing or jewelry that includes these blooms in the design. Make hairpieces out of them for special events such as weddings. Or simply decorate your home more often with arrangements that include your birth flowers.
Knowing about zodiac sign flowers will make it easier to include them in future arrangements for upcoming milestone life events where you want to use flowers for decorating.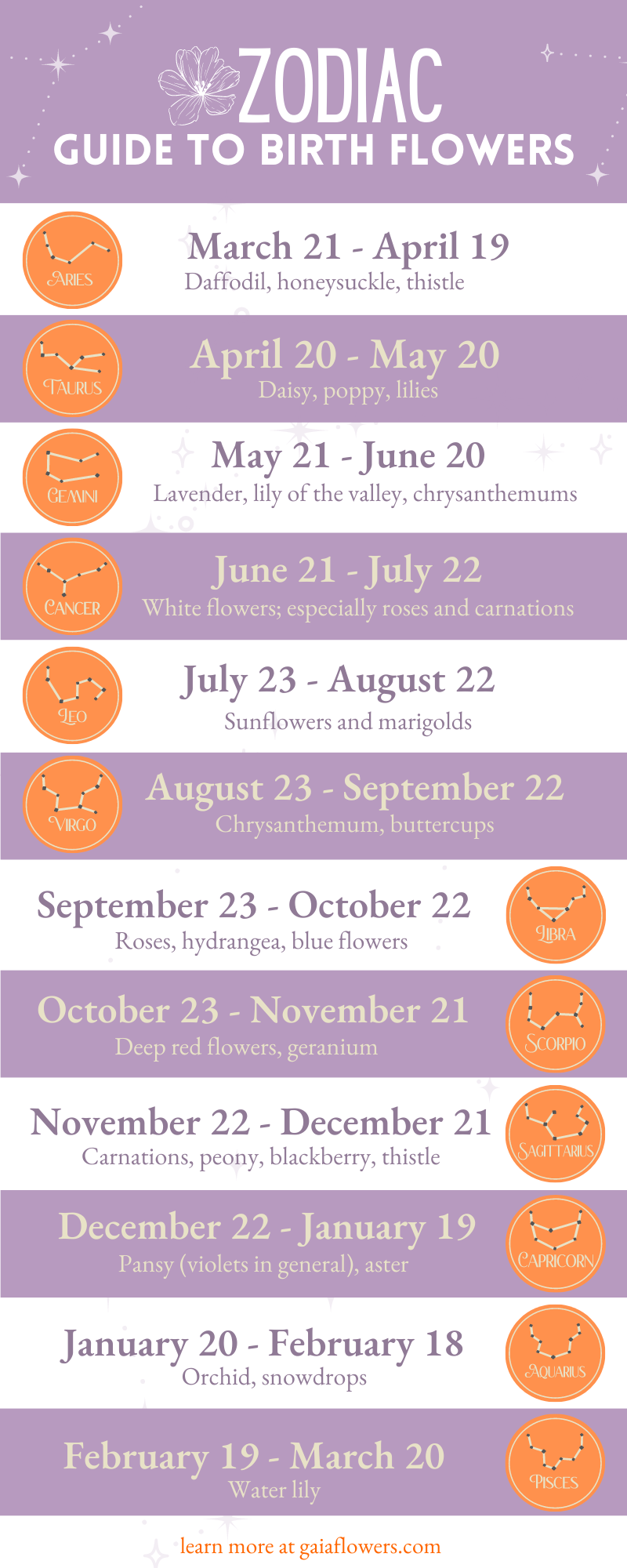 The zodiac flowers
Now you know how the zodiac calendar works, and have some ideas on how to make the most of birth flowers, which ones are yours? Here's an overview of the most common birth flowers for each zodiac sign.
♈️ Aries (March 21 – April 19) – Daffodil, honeysuckle, thistle
People born under the Aries sign are bright, positive, and confident, as are your birth flowers. Daffodils represent positive new beginnings, while honeysuckle is the flower of happiness (which matches the Aries personality perfectly). And how does the thistle fit in? Despite its prickly appearance, it's a plant that radiates confidence.
♉️ Taurus (April 20 – May 20) – Daisy, poppy, lilies
Taureans are sensual, resilient, and admirers of the finer things in life. Poppies represent your resilience and robust nature, as this bloom can grow almost anywhere.
Daisies are two flowers joined together—the large outer petals form one flower, while the tiny inner petals (known as 'the eye') form the second flower. Their union symbolizes love, which makes it the perfect emblem of the sensual characteristic.
Meanwhile, lilies are quietly demure and sophisticated – a great match for the appreciator-of-finer-things trait.
♊️ Gemini (May 21 – June 20) – Lavender, lily of the valley, chrysanthemums
Geminis are often extroverted, curious, and intelligent. Lavender's brightness and familiar perfume perfectly represent welcoming personalities, while lily of the valley is a symbol of happiness. Combine them in an arrangement for a Gemini and you'll capture this sign's curious and extroverted side.
♋️ Cancer (June 21 – July 22) – White flowers, especially roses and carnations
White flowers represent purity, innocence, and sympathy, so use them to embody Cancer's emotional, nurturing, and loving characteristics. Why roses in particular? There's no other flower in the world that better symbolizes love.
♌️ Leo (July 23 – August 22) – Sunflowers and marigolds
Leos are confident. They love the limelight, are full of ambition, and seek brightness in their lives. And you can't get much brighter or more confident than sunflowers and marigolds. Their eye-catching yellow and gold heads demand attention, bringing vibrancy to an arrangement no other bloom can match.
♍️ Virgo (August 23 – September 22) – Chrysanthemum, small blue or yellow flowers, buttercups
Virgos are usually strong, humble, and methodical. Chrysanthemums are an ideal birth flower for this sign as they are strong and thrive in all weathers, but also intricately and methodically detailed. As are the clean lines and delicate petals of the buttercup, which capture the humble and methodical personality of the Virgo.
♎️ Libra (September 23 – October 22) – Roses, hydrangea, blue flowers
Those born under Libra are described as beautiful, well-balanced, and promoters of peace and harmony. Roses are the perfect Earth representative for the Libran, as they express beauty and unconditional love.
But hydrangeas have a strong stem and soft-petaled flowers, meaning they're well-balanced. And why blue? Blue blooms bring balance and moderation to any arrangement.
♏️ Scorpio (October 23 – November 21) – Deep red flowers, geranium
Mysterious, brave, guarded, and passionate best describe Scorpios. Any flower that comes in a deep, vibrant red will capture these traits.
Geraniums are more specifically suited to this star sign. Each head is a tight bunch of small, outward-facing flowers that protect (or guard) their delicate underside.
♐️ Sagittarius (November 22 – December 21) – Carnations, peony, blackberry, thistle
Sagittarians are known for their fair-mindedness, optimism, and freedom. Carnations are multi-petalled and adaptable, symbolizing freedom and level-headedness.
Peonies symbolize positive thoughts and prosperity, which fits with the Sagittarian's optimism.
♑️ Capricorn (December 22 – January 19) – Pansy (violets in general), aster
If you're born under the Capricorn sign, you're likely to be ambitious, practical, and determined. All traits you'll find in pansies and asters. The word pansy comes from French to signify thinking, while asters represent wisdom.
♒️ Aquarius (January 20 – February 18) – Orchid, snowdrops
Aquarians are eccentric, unique, and easygoing. The strangely shaped stalk and vibrant colors found in orchids capture the eccentric energy and uniqueness of Aquarians.
For arrangements that won't suit an orchid, choose snowdrops. The drooping bell-shaped flower is a sign of acceptance and forgiveness, resonating well with the easygoing personality of Aquarians.
♓️ Pisces (February 19 – March 20) – Water lily
Passionate, artistic, and spiritual are three characteristics that define Pisces. This makes the water lily a great birth flower for this sign, and not just because Pisces is a water sign. Water lilies are a symbol of faith and spirituality, and their artistic and passionate qualities manifest in the beautiful blooming flower floating on top of the water.
---
Where to find zodiac flowers
There you have it – the best birth flowers for all 12 signs of the zodiac. You can find your perfect arrangement in our birthday flowers. Or if your flowers are for delivery in the Las Vegas or Nevada area, use our Designer's Choice to get a unique birth flower arrangement.