With so much attention given to large wedding flowers—the bouquets, ceremony florals, and centerpieces—corsages and boutonnieres often become an afterthought. But these small, wearable arrangements hold great significance for those who receive them.
Here's how you can make these petite pieces part of your special day.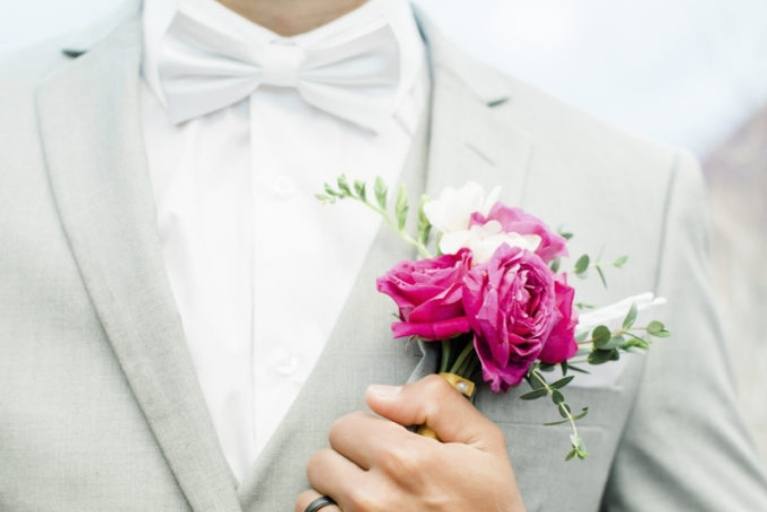 What's the significance of wearing wedding flowers?
Wearing wedding flowers is thought to symbolize love, happiness, satisfaction, good luck, and prosperity—the ideal hallmarks of an everlasting marriage. As far as we can tell, this tradition dates back to Ancient Rome, where brides wore wedding flowers on their wrists as an emblem of new beginnings, fidelity, and fertility.
Boutonnieres became a wedding tradition in the 16th century. Men would wear them on their jacket lapel or shirt to deter bad luck and evil spirits.
Along with their symbolic importance, the wearing of wedding flowers had a practical purpose. They acted as a perfume to mask bad scents and cover body odors.
Fortunately, we no longer need the aromatic qualities of flowers to hide unpleasant smells. We can enjoy their fragrance without this unsavory association. Hurrah!
Nowadays, corsages worn on wrists and boutonnieres fastened to lapels are given to family and friends in the bridal party. Gifting them to your extra special guests can be a touching moment during an otherwise busy day.
On a more practical note, corsages and boutonnieres subtly let other guests identify members of the bridal party and people of great significance to the couple.
Who wears corsages and boutonnieres? Traditions for men and women
Traditionally, corsages are worn by women and boutonnieres are worn by men. But we've come a long way since the days of Ancient Rome and the 16th century.
These days, with men being appointed bridesmaids and women tasked with being the best man, they can be enjoyed by any gender.
Nevertheless, many people look towards tradition to theme and influence their special day. So in those cases, here's who usually wears corsages and boutonnieres.
Corsages for women
You could expect to see them worn by the:
mother of the bride
mother of the groom
bridesmaids
flower girls
grandmothers.
These are just ideas of who may wear one. The person in question may prefer to do without, or choose their own corsage to match their outfit.
It's also becoming common for brides to request a corsage. Sometimes this replaces the bouquet completely, freeing up their hands for the day.
But we've also seen brides use bouquets for the ceremony and then wear a corsage at the reception, giving her the best of both worlds.
Boutonnieres for men
They are traditionally worn by the:
groom(s)
ushers
page boys
best man
father of the bride
father of the groom.
Generally speaking, everyone's boutonnieres will match except the groom's, which usually has an extra flourish.
Choosing the right corsage and boutonniere flowers
The design of your corsages and boutonnieres will fit with your overall wedding theme, and even echo any other floral arrangements you're having. But how do you reach that stage? Here's what to consider when choosing your corsages and boutonnieres.
Your wedding theme
Whether it's traditional, medieval, gothic, or something else, the theme of your wedding is a massive consideration when it comes to choosing flowers. It will influence not only their color, but also the size and shape of your corsages and boutonnieres.
The style of the dress and suit
The style of the dress, suit, and any other accessories and jewelry may also influence the design of the arrangement. Should your flowers be loose and wild-looking, or tight and organized?
For example, a more delicate, refined wedding dress or suit might need more grandiose corsages and boutonnieres to offset the entire outfit.
On the other hand, if your suit or dress is fantastically elaborate then you might want a more refined corsage or boutonniere so nothing seems over the top.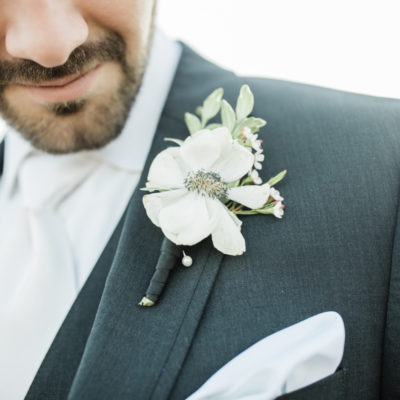 The size
The typical corsage is about the size of five rose heads, whereas boutonnieres are usually just a single flower head with a stem of two or three inches. This isn't by accident.
Corsages and boutonnieres are wearable flowers, and anything too big will become cumbersome as the day wears on. Size really does matter.
Organizing your wedding flowers from afar?
As these small floral tokens are given to those closest to you, you want to make sure they're perfect.
So if you're planning a destination wedding and can't meet your florist before the special day, how do you make sure you get what you want?
It's all about communication.
Here are some questions you can ask to help you coordinate and communicate what you want, and be confident you'll get the wedding flowers you're looking for.
Can I see examples of your work?
Are you available for my wedding date? Can you arrange flowers for that time?
How will you keep my flowers looking their best?
Can you provide flowers for this location? Have you done so before?
Can I speak with other customers you've done this for?
Looking for inspiration? Take a look at our wedding corsages and boutonnieres that are ready to order. Or get in touch to see how we can help build your perfect corsage or boutonniere.