Learn the meaning of each flower and never give an awkward gift again
Giving flowers has been a traditional way to show your gratitude, and love, for thousands of years.
Our pick of the 6 best flowers to say thank you are:
With so many flowers choose from, each with their unique meaning, it can be a bit tricky to pick the right ones for the right occasion.
Let's face it, you don't want to be giving your colleague messages of romance when all you want to say is 'I'm grateful for your help!'
No reason is needed to shower your affection on your friends, colleagues or lovers. Has your partner been extra supportive of you lately? Who's gone out of their way at work recently to help you? Or, are you having a heart-burst moment over a special friend? The traditional way of giving flowers to say thank you is still most peoples go-to.
If you want to avoid awkward moments and learn what your favorite thank-you flowers mean, you've come to the right place. Let's take a look at our pick of the 7 best flowers in the world to say thank you!
Flower #1: Roses
We simply must start our list of the 7 best flowers to say thank you with the stunning rose. They're the world's most popular and acclaimed flower used as an extension of people's feelings of true love and romance.
You may want to avoid the red color if you're gifting a friend or colleague – let's keep your thank you message clear. They make an excellent surprise in their other most common colors of white, pink and yellow. A lovely and welcoming flower with an aroma that brings back memories of fresh spring gardens. Arrange them in a simple and modern wood square box and say thank you by giving your friend a stunning focal point in their home or office.
Flower #2: Lucky Orchid
as a centerpiece on a dining table
resting quaintly on a window sill
Your friend or loved one will feel lucky to get their hands on this uniquely potted flower.
Flower #3: Tulips
Tulips are Dutch flowers and became popular in the 17th Century when explorers started invading European cities. Their unique cup-shaped flower comes in many exciting colors and bursts into bloom in Spring.
They're generally a symbol of perfect love, but the yellow ones are our pick for showing someone you're grateful for their efforts because they represent cheerful thoughts and sunshine.
Flower #4: Daisy
The cheerful and colorful daisy is the birth flower of people born in April. It's a flower that evokes feelings of innocence and playfulness–perfect as a thank you bouquet for recipients who are young at heart.
Flower #5: Lily
According to Wikipedia the Lily (or Lilium) is:
The lily is a genus of flowering plant. There are many species of lilies, like trumpet lilies and tiger lilies. They are usually quite tall, and are perennials.
While they're found around the world, the real meaning of lilies is humility and devotion. They're the 30th-anniversary flower and the perfect gift to say congratulations and thank you to your folks on their wedding anniversary.
Flower #6: Hydrangeas
Hydrangeas were first discovered in Japan and according to Wikipedia, they've appeared in poems of the Nara period (710-794). They may just be a the perfect 'thank you for forgiving me' flower bouquet as it's said a Japanese Emperor gave them as apologies to his maidens.
These versatile blooms with a delicious aroma also hold the meaning of gratitude and honesty. They're the perfect thank you gift to show your best friend how much she means to you or to send home to your Mom as a 'just because' bouquet.
Bonus… A plant… succulents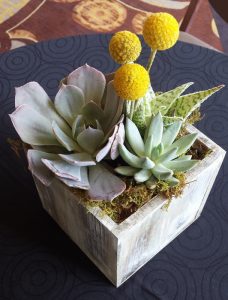 Box of Succulents
They may not officially be a flower, but they are a beautiful looking plant and a great gift to beautify your recipients home or office. These little suckers (pun intended) are easy to care for, will practically last forever and spruce up any location. Plant them in warm, rustic wooden boxes and these never-say-die plants bring joy to whoever is lucky enough to get them!
Get the most sustainable flowers in Las Vegas to say thank you
It's easy to choose the type of flowers for the person you're saying thank you to when you know a bit about their meanings. You really can't get this wrong-everyone likes getting flowers, so, whether you're buying a bouquet of hydrangeas for your BFF, a bunch of gerberas for your helpful colleague or romantic red roses for your partner, we've got you covered.