Finding a meaningful anniversary gift year after year can be hard. If you've been married for a while, you may no longer have the space for yet another scented candle. You may even be wondering whether a generic box of chocolates will still cut it, given everything you've been through together.
If you want to give your partner a truly meaningful gift this year—one that's pertinent to your specific anniversary—then it's time to make the most of your anniversary flower.
We all know that each year of marriage has a specific material associated with it: paper, cotton, leather, wood, etc. But did you know each year of marriage also has an anniversary flower? Putting the flower for your year at the heart of your arrangement will instantly add more symbolism and meaning to your gift.
From your first anniversary to your 60th. Here are the anniversary flowers by year
Giving flowers meaning and symbolism goes back to ancient civilizations. Sorry we can't be more specific than that. But what we do know is that ancient floral representations of feelings and emotions continue to influence many of our current beliefs around flower symbolism.
Many ideas surrounding anniversary flowers come from the Ancient Greeks and Romans. A specific flower may play a part in their stories of gods and goddesses falling in (and sometimes out of) love. Other ideas attached to the meaning of anniversary flowers come from the more recent (but still pretty old) Victorian era. And then, just to throw a spanner in the works, some flowers represent a specific year of marriage because of their physical qualities.
In our list of anniversary flowers by year, you'll find a mix of ancient myths and historical beliefs from various cultures, as well as our own interpretations of why each flower represents that year. We hope you enjoy it, and use it as inspiration for the floral gifts you send to your love this year and the ones that follow.
Year 1 – Carnations
Congratulations! You've reached your first wedding anniversary, and your anniversary flower is the carnation. Full of shape, movement, and energy, it reflects the newlywed phase you're in. And while they come in a range of colors, it's the red ones that best symbolize love and passion.
The carnation flower is also edible and can be used in teas. (Note: You should avoid eating the ones you buy, as they may have been cultivated using things you shouldn't digest.) When ingested, the carnation flower is said to calm the nervous system and treat stomach ache. So if you have any nerves as you approach your first anniversary, you may find your anniversary flower a soothing addition to your home.
Year 2 – Cosmos
Ever felt so in love with your partner that you wanted to give them the universe? Well, in your second year of marriage you have that opportunity, as your flower for this year is Cosmos. Its name originates from the Greek word 'κόσμος' ( 'kosmos'), meaning the world, cosmos, and universe. Ancient Greeks gave this delicate yet perfectly formed flower its name as they believed it symbolized order, harmony, and balance.
Year 3 – Sunflowers
Sunflowers are feel-good flowers, making them perfect for your celebration. But this isn't the only reason they make our list. Sunflowers have one of the strongest and most robust stems in the world of cut blooms. When placed in a bouquet of anniversary flowers, they represent the strong bond you and your partner share. To top it off, their vibrant yellow petals represent adoration and loyalty.
Year 4 – Geranium or hydrangea
When you get to your fourth anniversary, you have a choice. You could give geraniums, which have a beautiful cluster of flowers held together by a single stem. We believe these perfectly represent the many memories you and your partner are making, held together by the strength of your marriage (the stem). Or you may choose to give hydrangeas, which symbolize gratitude and deep understanding.
Year 5 – Daisies
Sure, daisies are considered one of the simpler flowers. But that's what makes them perfect for your half-a-decade celebration. Rhythm, routine and… what do they call it, wedded bliss? These are the marriage qualities the daisy represents. In our opinion, there's beauty and strength in the things we're used to having close to us every single day.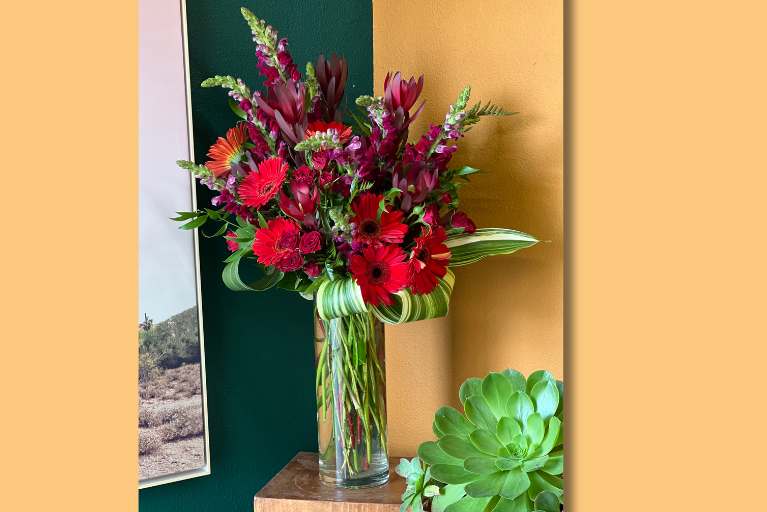 Year 6 – Calla Lily
This flower is calm and elegant, with a bloom that looks optimistically forwards and upwards. Oh, and it's also often associated with fertility. (Are kids on the cards for you this year?) Calla Lilies are often white, so if you want an arrangement with more oomph look for yellow or even deep red-purple blooms.
Year 7 – Freesia
It's believed that Freesias are named after Dr Freese, a good friend of botanist Christian P. Ecklon who discovered the flower. And that's why freesias symbolize friendship. It's a sweet story, and true friendship is so often a part of marriage.
Year 8 – Lilacs
Naturally blooming in spring, lilacs bring the promise of new beginnings or, perhaps in your case, fresh adventures during your eighth year of marriage. They also symbolize joy and love. No matter how long you've been together, it's impossible to have too much of either of these.
An extra tip: Choose your color of lilac carefully, as many believe the color of the flower represents different sentiments.
Year 10 – Tulips or daffodils
Congratulations on 10 years of marriage. It's a milestone that deserves to be met with spring flowers representing friendship, resilience, hope, and dependability. Whether you choose to mark this anniversary with a bouquet of tulips or daffodils, you'll capture the hope and happiness you feel now and in the years to come.
Year 15 – Rose
Red roses are synonymous with love, romance, and passion. And after 15 years together there's little doubt you've got those down pat. But we're realists. And some of us are married, too. So we understand there can be challenging moments in any relationship. The rose, with its thorny stem and large, bright flower, perfectly represents the tough times you may have been through, but your love for each other is at the end of it all.

Silver wedding anniversary (25 years) – Iris
The roots of the iris run deep, keeping the plant firmly in the soil. Which makes it a perfect representation of your relationship, your life, and the family that has grown from these sturdy roots. The iris flower is thought to symbolize admiration, wisdom, faith, happiness, love, kindness, and respect – all ingredients of a long-standing marriage.
Pearl wedding anniversary (30 years) – Lily or sweet pea
You have a choice of two flowers when you reach your 30th wedding anniversary: sweet peas or lilies.
According to the Victorian practice of floriography, sweet peas mean 'blissful pleasure.' This delicate yet tough flower represents friendship and gratitude. They're also easy to grow, perhaps reflecting the ease you feel in your marriage.
In many cultures, the lily flower represents purity, fertility, and innocence. This makes them a popular wedding flower. But they also symbolize devotion. To say more with these flowers, choose your color of lily carefully. What would you like to communicate on this monumental anniversary?
White – purity, rebirth, and new beginnings. (Or fresh adventures for your thirtieth year?)
Red – romantic love, and passion.
Pink – companionship, friendship, compassion, and admiration.
Yellow – happiness, and loyalty.
Green (often calla lilies) – success, and financial good luck.
Orange – for moments of celebration.
Ruby wedding anniversary (40 years) – Gladiolus
Forty years together is a long time. And so gladiolus, with their tall strong stems and row of beautiful blooms creeping upwards, perfectly represent your time together. Symbolically, these flowers mean strength of character, faithfulness, and remembrance. What better way to share memories of your 40 years together than on your ruby anniversary? Create a playful bunch by mixing and matching different colored stems of gladioli.
Gold wedding anniversary (50 years) – Orchid, yellow roses, and violets
While there are three golden wedding anniversary flowers, two of them should appear in the same arrangement.
The combination of yellow roses (gold) and violets are thought to symbolize a long life together, and the support you have given each other for more than half a century.
Orchids, on the other hand, represent love, beauty, refinement, and mature charm. All perfect words to describe these exotic flowers and, of course, your long-lasting marriage.
Diamond wedding anniversary (60 years) – Pink or white flowers
There's no individual flower to mark six decades of marriage. Instead, we turn to colors.
Pink and white flowers represent the purity of a couple's love and deep devotion to each other. One beautiful idea we like from The Spruce is creating a bouquet with a different white follower to represent each decade together.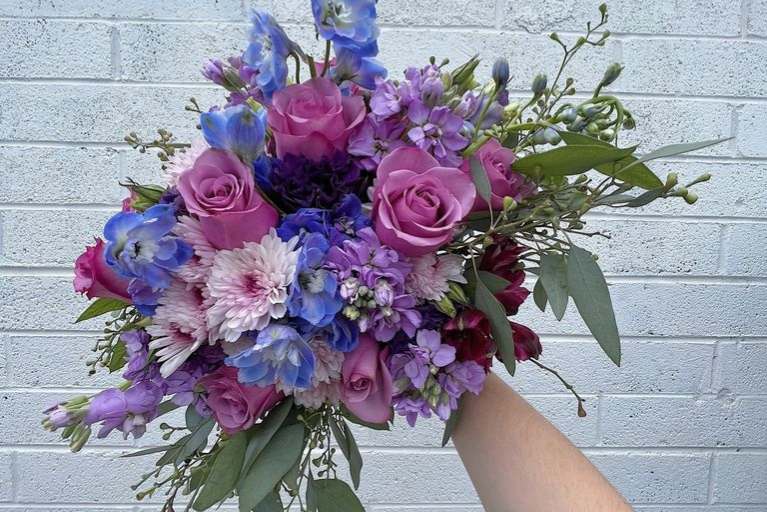 Want to give something truly unique and memorable?
Not one to follow guides by the letter? For something a little more personal—perhaps to mark a milestone anniversary—you could recreate the bouquet from your wedding day.
At Gaia Flowers, we're seeing this becoming a trend, especially with couples approaching a big anniversary. They want to enjoy their wedding flowers a second or third time around. (Could this be the floral equivalent of a vow renewal? We think so.)
This sweet idea isn't only about thoughtfulness. There may be more practical motivations for wanting to recreate the bouquet. For some, the remake is a second chance at getting photos of their beautiful wedding flowers that couldn't be taken on the original day. For others, they wished they'd preserved the wedding flowers.
Making this happen
To recreate your bouquet from that day, you'll need a photo of your original arrangement for the florist to work from. If you don't have any photos, you'll need to tell your florist what flowers went into your bouquet and have an idea of the style (posy, waterfall, etc.)
Then you'll need to describe it as accurately as possible. Just be prepared for a little creative license, especially if your wedding was a long time ago.
It's also worth noting that the cost of flowers may well have changed since your wedding. Make sure you account for this in your anniversary gift budget. (You can ask your florist for a quote before committing.)
Get the max from your anniversary flowers
When you've put so much thought, care, and possibly money into getting the perfect anniversary flower arrangement, it makes sense to get the maximum enjoyment from them. With cut flowers, this means knowing how to keep your fresh flowers alive for as long as possible.
Here are five professional florist-approved tips you should try.
Use flower food. (Your bouquet may come with a single sachet of this.) Make sure you add it to the vase of water.
Chill your flowers. After you've enjoyed the arrangement for the day, place the flowers in the coolest room in your home (or in the fridge if you have space).
Trim the stems. Not only when you first get the flowers, but also every 3-4 days after.
Control the bacteria. While you can't avoid bacteria on your flowers, you can slow its growth by washing your vase in warm soapy water before use, removing leaves that sit below the waterline, and changing the water every 2-3 days.
Add some baby aspirin. One tablet of low-dose aspirin helps lower the pH level of the water, recreating the soil acidity flowers prefer.
Is your anniversary coming up?
Hopefully our list of anniversary flowers has inspired you to get more creative and personal when choosing your bouquet.
If your anniversary date is close, why not work with one of our florists to create a Just for Them bouquet and give a bouquet that's as unique as your partner? If your love is in Las Vegas, we can even deliver it for you. Get started now.