Whether your special day is coming up or you've just tied the knot, thinking about what to do with your wedding flowers afterwards is a great idea. Let's face it: Throwing them in the trash is a waste, especially after spending all that time and money choosing the perfect florals for your perfect day.
As an eco-friendly, ethical florist, we love the 'upcycle, recycle' sentiment. And the good news is you can do it with your wedding bouquets and arrangements. So if being able to remember them in a photo isn't enough, here are seven ways for you to enjoy your flowers for longer.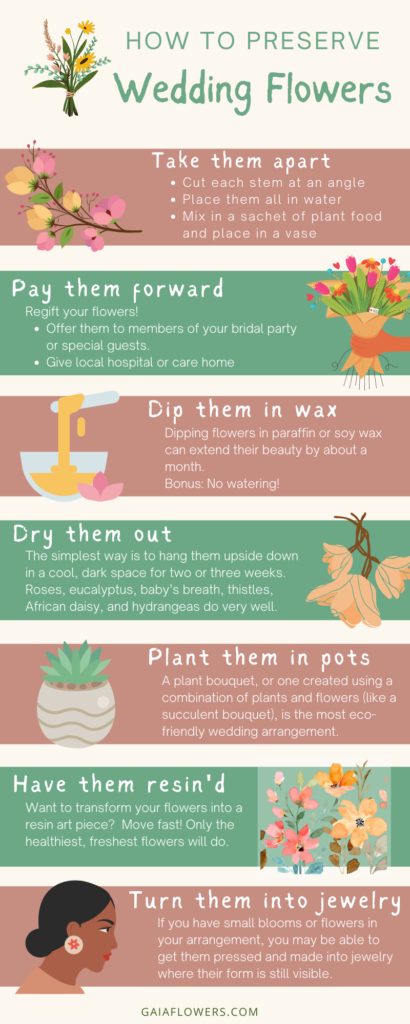 From wedding day to every day
Make the most of your flowers without needing to keep them forever with one of these three short-term ideas for your wedding florals.
1. Take them apart
As with any cut flowers, the ones in your bouquet and flower arrangements will last longer when placed in a vase of water. You can then enjoy them in your home, or perhaps your honeymoon suite.
Prepare them for the vase by taking your bouquet or arrangement apart and removing any wire, twine, or flowers that have been damaged. Once you've done that:
cut each stem at an angle
place them all in water
mix in a sachet of plant food.
We have a complete guide to making cut flowers last longer if you want to know more. But the main thing to remember is to get them into water, or even into a fridge to keep them cool, as soon as possible after your wedding.
2. Pay them forward
Can't keep your flowers because you're going on your honeymoon? Then how about regifting them? Offer them to members of your bridal party or special guests.
You could also gift them to a local hospital or care home where they can brighten up someone's room.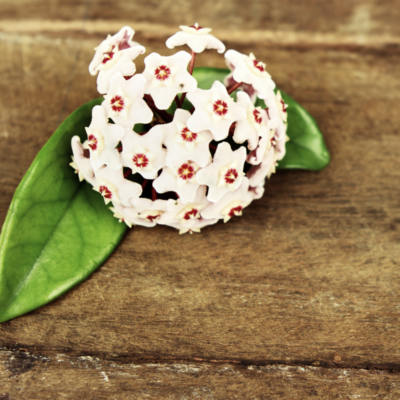 3. Dip them in wax
Dipping flowers in paraffin or soy wax can extend their beauty by about a month. And the best bit? You don't even need to put them in water once they've been waxed. Never waxed flowers before? Here's how to do it.
From wedding day to forever and a day
If you've invested serious dollars in your bouquet, or you're in awe of what your florist created, here are our four favorite ways to immortalize your wedding flowers.
1. Dry them out
Some wedding flowers lend themselves perfectly to being dried, such as roses, eucalyptus, baby's breath, thistles, African daisy, and hydrangeas.
There are a couple of different methods for drying your flowers, but the simplest way is to hang them upside down in a cool, dark space for two or three weeks.
And once they've dried you can use them in all sorts of creative ways.
2. Plant them in pots
A plant bouquet, or one created using a combination of plants and flowers (like our succulent bouquet), is the most eco-friendly wedding arrangement you can have.
Growing plants usually has less of an impact on the environment than cultivating cut flowers. But the best bit is you can replant them after your special day, giving you a forever memento.
3. Have them resin'd
Want to transform your flowers into a resin art piece? Then you need to move fast.
According to Little Lo Floral, a company that specializes in bouquet preservation, the flowers need to be as fresh as possible. In most cases they use only the heads of the healthiest flowers, artistically arranging them and then suspending them in resin.

4. Turn them into jewelry
If you have small blooms or flowers in your arrangement, you may be able to get them pressed and made into jewelry where their form is still visible.
However, the more common way to transform flowers into jewelry is by using the petals to capture the color of the flowers.
Find your forever flowers
Getting married in Nevada? Still looking for wedding flowers so good you'll want to keep them forever? We can help.
Gaia Flowers has more than 30 years of floristry experience. Some of Las Vegas' best wedding coordinators and hottest venues trust us as their preferred wedding florals vendor.