And 10 reasons why it's simply a nice thing to do
As someone who loves cut flowers, and will use any excuse to enjoy a well-arranged bouquet, I find it strange that they come with an unwritten rule: you can only enjoy them when someone else buys them for you.
The act of giving flowers as gifts dates back to the ancient Egyptians and Greeks, where they were gifted to gods and athletic heroes. In the Middle Ages and the Victorian era different flowers were given different meanings ( known as 'floriography'), and so giving flowers became a way of communicating certain feelings.
Well, I think it's time to update the idea of giving flowers as gifts for the 21st century. You shouldn't have to wait for someone else to give you flowers.
In fact, I encourage you to join the 22% of Americans who currently buy flowers for themselves and, in doing so, enjoy these science-backed health and mood-boosting benefits.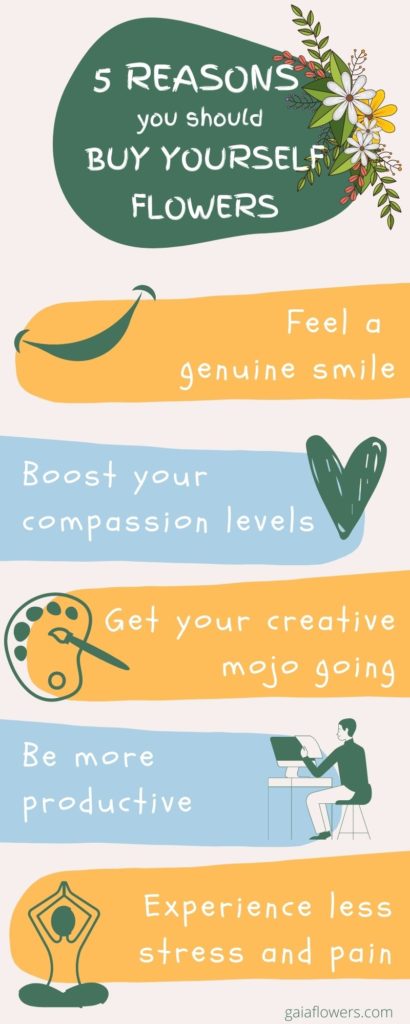 The five benefits of regularly buying yourself flowers
1. Feel a genuine smile
Did you know there are different types of smiles? The most genuine smile is known as a 'Duchenne smile'. In 2005 psychologist Professor Jeannette Haviland-Jones found that every woman in her study who received flowers wore a Duchenne smile.
Haviland-Jones later told Vogue, "When I saw that every person who got the flowers responded with the Duchenne smile, I thought, No, this doesn't happen. In the emotions lab, you never get a 100 percent response unless you're dropping a snake on people, which gives you a nice 100 percent fear response. But, happy? No."
So if you really need something to smile about, buying yourself flowers is a great start.
2. Boost your compassion levels
A study from Harvard University Medical School, led by psychologist Dr Nancy Etcoff, found that flowers raised people's feelings of compassion towards others. Having fresh cut flowers in the home for even a few days had a positive effect, with respondents also reporting they felt less worried or anxious than usual.
Cheery flowers to send yourself
Soft and peppy peachy hues are sure to boost your mood!
3. Get your creative mojo going
Feeling like you're in a creative funk? Flowers may be the muse you're looking for if an eight-month study by Texas A&M University is anything to go by. This long-running study looked at the effects flowers have on workplace creativity.
Three different work environments were set up. The first was furnished with abstract sculptures, the second included fresh flowers and plants, and the third was left bare. Participants then were asked to solve problems in each environment.
At the end of the experiment, the men in the study generated 15% more ideas when working in the plant and flower surroundings. And women concocted more creative and flexible solutions to problems when plants and flowers were present.
4. Be more productive
This one isn't strictly about flowers, but rather the benefits of plants. (But as some plants are flowering plants, it's OK that they're on this list.)
A 2015 global study involving 7,600 office workers in 16 countries looked at how plants influence creativity and productivity. People in offices furnished with plants reported being 6% more productive compared to those working in plant-free environments.
5. Experience less stress and pain
According to research by the American Society for Horticulture Science, flowers can help lower stress-induced pain. Their study of 90 patients recovering from surgery found those in rooms with flowers felt calmer and needed lower doses of pain meds compared to patients in rooms without flowers.
So next time you've got a tension headache, try picking up a bouquet to go with your usual choice of pain relief for an extra boost.
The not-so-scientific reasons to buy yourself flowers
Scientific studies into the effects flowers have on our health and wellbeing are interesting. But you know what? Sometimes 'just because' is all you need to say. Treating yourself to a bouquet is like giving yourself a high five, only prettier. And you don't need to look too hard to find an excuse a reason to do it.
Enjoy fresh cut flowers as:
cheery sight
way to keep yourself motivated
celebration for a personal or work life win
tribute on an important date or anniversary
way to spruce up a room when you have guests
decoration to brighten up your living space
reward for getting something done (however simple)
treat because you haven't had fresh flowers for a while
celebration for having some extra cash to buy fresh flowers
way to help you forget a crappy day at work (or a crappy day in general).
Are you in the mood to send yourself some flowers? Choose a bouquet to enjoy from our designs or go for some long-term feel-good by signing up for a flower subscription. And if you're in Las Vegas we can deliver your blooms to your door.