When it comes to festive decorating and merrymaking, we rely a lot on plants and flowers. We deck our halls with boughs of holly, cut and decorate Christmas trees, and share kisses with loved ones under the mistletoe. But how did these plants become traditional Christmas plants in the first place?
This year, we wanted to do more than just give you a list of common Christmas plants to use in your wreaths and arrangements. So we started digging deeper into the lore, stories, and beliefs surrounding these plants, and why we decorate with them here in North America.
Which means you can decorate your tree and hang that mistletoe over your doorways knowing exactly why these plants are so popular at Christmas.

Holly
Holly became a festive plant thanks to the Druids, Celts, and Ancient Romans.
For the Druids, holly's ability to stay green and produce fruit even in the harsh winter months helped them believe it was the most powerful plant in the woods. Often referred to as the King of the Forests, the religious Druid leaders would encourage Celt tribes to bring holly into their homes for good luck and protection.
In Ancient Rome, holly was used as an offering to one of their most powerful gods, Saturn. During the winter solstice, they would decorate their homes with holly wreaths and garlands in his honor. But how did holly become a symbol for the Christian festival of Christmas? To answer that question we need to understand that being Christian in Ancient Rome was punishable by death. To help conceal their religion but still celebrate the birth of Christ, it's believed that Roman Christians continued hanging holly wreaths to make it look like they were worshipping Saturn.
Finally, here's an agnostic theory as to why we use holly at Christmas. There are different types of holly bushes around the world. It's thought that one of the first plants the North American Pilgrims saw that reminded them of home was the holly bush. And that's why we decorate with it.
Ivy
Like holly, ivy is an evergreen plant that's thought to represent everlasting life. But there's more to this Christmas plant's story than its ability to grow during winter. As mentioned earlier, the Druids believed the holly tree was the King of the Woods. But ivy was always there to rival it, as hinted at in the popular Christmas song The Holly and The Ivy.
The holly and the ivy
When they are both full grown
Of all trees that are in the wood
The holly bears the crown.
Ivy, thought in ancient Celt culture to be the female plant to the male holly, often loses out. But it's not all doom and gloom for this Christmas plant. According to a Guardian article, folklore suggests the female ivy brings protection. As recently as the 1930s, some UK farmers would feed ivy to their cattle believing it would keep the Devil away until next Christmas.
For the less superstitious among us, we can accept that trailing ivy is in abundance during the winter months. And its rich-green color and flexibility makes it perfect for Christmas wreaths and arrangements.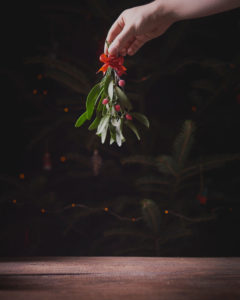 Mistletoe
For such a small and dainty plant, the story of mistletoe and kissing is complex and shrouded in old Norse mythology. This story of deceit among gods and death begins with the Norse goddess Frigg casting a powerful spell to stop any earth-grown plant from harming her son, Baldur. Unfortunately for Frigg, she overlooked the fact that mistletoe is a parasitic plant that grows not in the earth but in the branches of other trees. The crafty and deceitful god Loki learns this and makes a spear of mistletoe to kill Baldur. It's believed that mistletoe became a symbol of love only after Baldur's resurrection when Frigg promised to kiss anyone who passed underneath it.
This fits neatly with mistletoe being a symbol of peace, goodwill, and love – qualities that pretty much represent what Christmas stands for. In ancient Rome, it's said that enemies who found themselves under a mistletoe tree would stop fighting, hug, and put their differences to one side until the next day.
Unfortunately, while both stories explain the kissing connection, neither really gives us an understanding of how it became linked with Christmas.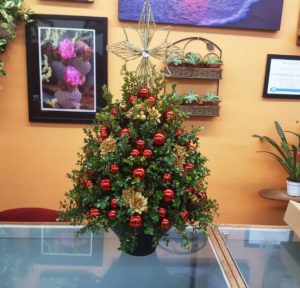 Christmas trees
Christmas trees could come from an old Celt tradition. During the winter solstice, they would decorate their homes with branches taken from evergreen trees and keep them as a sign of hope that spring would return.
But that's just one theory. Many more Christmas tree origin stories come from Germany. For example, Christmas trees are thought to have been the idea of a 16-century German preacher named Martin Luther. While walking through the forest one night he saw twinkling stars shining through the branches of a tree. Rather than simply describe the beautiful sight to his family and children, it's thought that he brought a tree into the house and tried to recreate it by hanging candles in its branches.
Another Christian-based belief is the story of a German forester and his family. On Christmas Eve they welcomed a small, homeless boy into their house. When the family woke up on Christmas morning, they were greeted by a chorus of angels and the small boy turned out to be Jesus Christ. As a gift to the family for looking after him, Jesus took a branch from a fir tree and placed it in their home.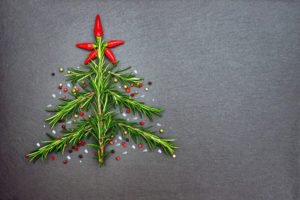 Rosemary
The links between rosemary and Christianity are a little clearer. At the time of Jesus' birth, rosemary may have been used to perfume the stable and repel insects, and Mary may have dried freshly-washed clothes on rosemary bushes to capture the scent. A handful of sources also suggest that Mary may have hidden under a rosemary bush when escaping to Egypt.
On a more practical note, rosemary is a very useful herb to have around at Christmas. It will add a lovely scent to your home, and you can add a sprig or two to your Christmas roast. This, along with its pine-like leaves, may explain why rosemary Christmas trees are often on sale in food stores and nurseries at this time of year.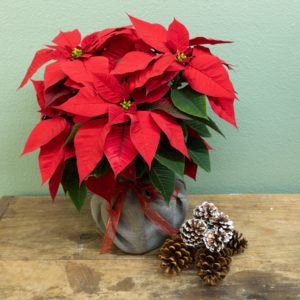 Poinsettia
Poinsettias are native to Mexico, which is where the stories of how this plant with its bright red flowers became a Christmas favorite.
The first story is that of a poor, young girl in 16th century Mexico. Sad and unable to buy a gift for the baby Jesus, an angel heard her cries. The angel told the girl to collect weeds from the side of the road and place them in front of the church altar. The story goes that on Christmas morning the weeds flowered into beautiful poinsettias.
In a time when many of us may look for eco-friendly and sustainable gifts to give this Christmas, the sentiment of this story feels very relevant. You may not need to look very far to find something beautiful to gift.
Which is perhaps what Joel Roberts Poinsettia was thinking. Poinsettia was the first US minister to Mexico, and it's believed he sent the plants back as gifts to friends and family in America. Here in North America, we know the plant to be named after Joel Roberts Poinsettia. But in Mexico it's called La Flor de la Nochebuena, which translates to 'flower of the Holy Night'.
Getting festive with plants
If using real plants isn't part of your Christmas decorating yet, perhaps now that you know a little more about their origins and the traditions attached to them they can be. Choosing to decorate with plants, or even gifting a plant, is also an excellent step towards having an eco-friendlier Christmas. Plants can be composted and flowers dried out after you're done with them.
If you're hoping to dabble with some DIY wreath and arrangement making, or you're looking to buy festive flowers, we can help. Our Christmas plant section includes plants and flowers that are perfect for the season.