How to identify our hardy native plants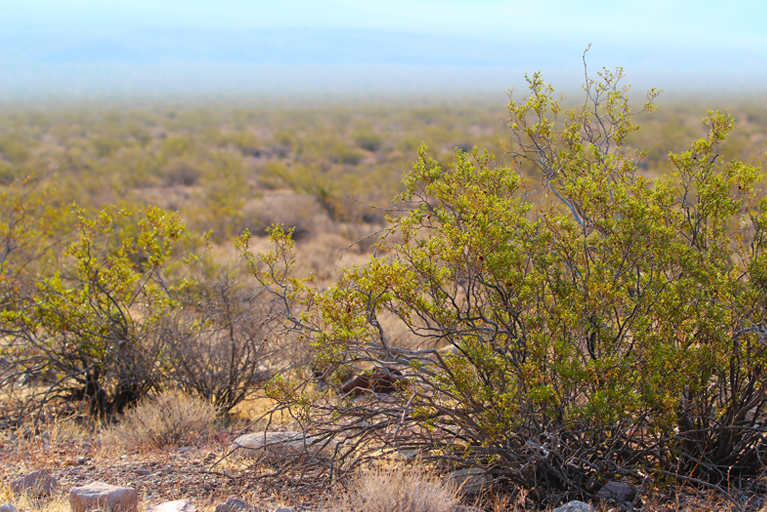 Hot, dry, sandy, and thriving.
Like the people who live here, Las Vegas native plants can be pretty tough when they need to be. Nevada, The Great Basin, and the Mojave Desert are dry. It's a tough environment for plants to grow and thrive.
Unless they're native to the area.
We're blessed with some incredible national and state parks. When you're out and about enjoying them—hiking, running, or simply enjoying a stroll—you'll see lots of beautiful plants and flowers. But you may not know what they are.
So in this article we'll be introducing you to some of our common native plants so you can identify them.
Las Vegas natives have a strong history
Nevada has a reputation as the driest state in the nation. A place where flowers grow under rocks, or wave in the breeze from high atop a gray-brown mountainous expanse. Explorer John Charles Frémont began cataloging the state's flora in the 1840s. Today, thanks to the Nevada Natural Heritage Program, we know of 153 plant species that exist only in Nevada.
And that's worth protecting and celebrating, don't you think?
Some Las Vegas native plants are rare and protected. So you need to be able to identify them (and not disturb them).
Las Vegas native plants by season
Whether you're visiting Antelope Valley in spring to enjoy the bright fields of Las Vegas poppies, or taking a road trip through the scenic Joshua Tree National Park in summer, the seasons have an effect on the types of plants you might see.
Maybe you're navigating the inhospitable and fascinating Death Valley, host to Star Wars film crews. Or maybe you're watching the native plants slowly reclaim the land from once-thriving ghost towns.
Let's categorize the plants by season, and particularly when they might flower. You probably know that most desert plants don't flower every year. It depends on whether they've enjoyed proper rain and a good winter chill. So if you come across these blooming beauties, consider yourself lucky.
Summer
Summer is one of the two main seasons for spotting Las Vegas native plants in bloom, where they unfurl brightly in contrast to the harsh desert expanse. (Spring is the other.)
Dorr's sage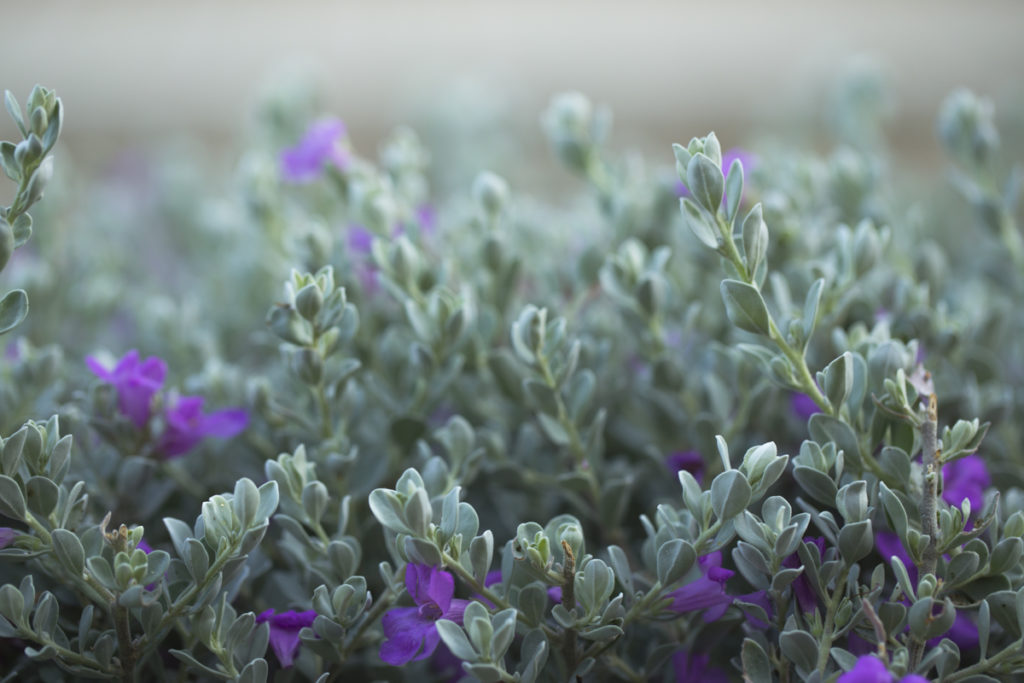 Dorr's sage (Salvia dorrii) is native to the mountain areas of western United States and northwestern Arizona. It grows mainly in the dry, well-draining soils of the Great Basin and southward to the Mojave Desert.
It usually grows 4–28 inches (10–70 cm) in both height and width. The narrow, gray-green leaves are tapered at the base and rounded at the top.
But the most distinctive feature of Dorr's sage is its scent. It releases an intense minty aroma when foliage is handled or crushed. In late spring and early summer, you'll see spike-like clusters of purple-, blue- or rose-colored flowers.
Like many Las Vegas native plants, Dorr's sage is a classic example of desert hardiness. It's also part of a deeply connected ecosystem. It's wind, rabbit and drought resistant, and larval host to the elegant sphinx moth. And it attracts bees and butterflies to pollinate it.
Creosote bush
Creosote bush (Larrea tridenta) is especially prominent in the Mojave, Sonoran and Chihuahuan deserts of western North America.
It's an evergreen shrub that grows to around 10 ft (3 m) tall, although some have grown as tall as 13 ft (4 m). It has dark green, resinous leaves, with two opposite leaflets joined at the base. Cleverly, these leaflets have a deciduous awn between them for extra shade and heat protection.
It gets its name from the way the entire plant releases a creosote scent, which is often described as the smell of rain.
The creosote bush blooms in spring and summer. As it grows older, usually between 30 and 90 years old, its crown splits into separate crowns. When the old crown dies, the new one becomes a clonal colony from the previous plant. And eventually the plant is made up of many separate stem crowns that all came from the same seed.
And if you think that's fascinating, what you're about to learn will be awe-inspiring.
Meet the King Clone, one of the oldest living organisms on Earth.
Image suggestion: King Clone creosote bush
This plant has been around for an estimated 11,700 years. Yes, you read that right. It's a single clonal colony plant in the central Mojave Desert near Lucerne Valley, California that can grow to around 20 m in diameter.
Another interesting fact about the creosote bush is that it's often found near a plant called the burro bush (or bur-sage). Chemicals in the roots of creosote bush inhibit the growth of burro bush roots. But beyond that their relationship is a mystery, and no-one knows why the two plants often grow near each other.
Globemallow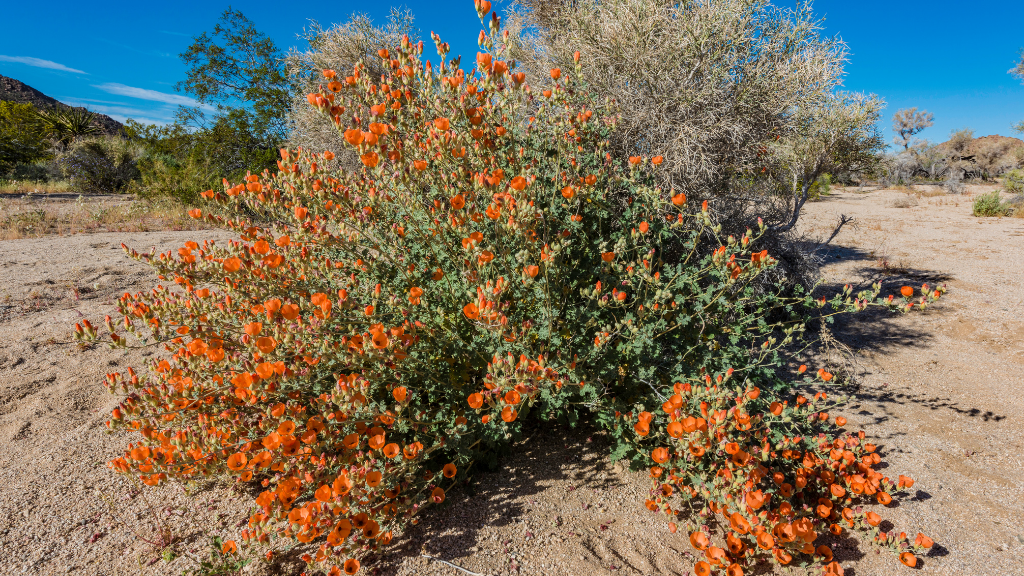 Globemallow (Sphaeralcea) is a genus of about 40–60 species of flowering plants in the mallow family (Malvaceae). They include shrubs, annuals, and perennials. Most of the species are native to the drier regions of North America, although some originated from  South America.
The leaves of these plants are arranged in a spiral, and the plant is covered in a fine down. In summer, you may be lucky enough to see orange, red or purple cup-shaped flowers, with the stamens joined into a column in the center.
Globemallows range in height from 45 cm to 1.8 m, and are eaten by the larvae of some butterflies and moths.
Desert marigold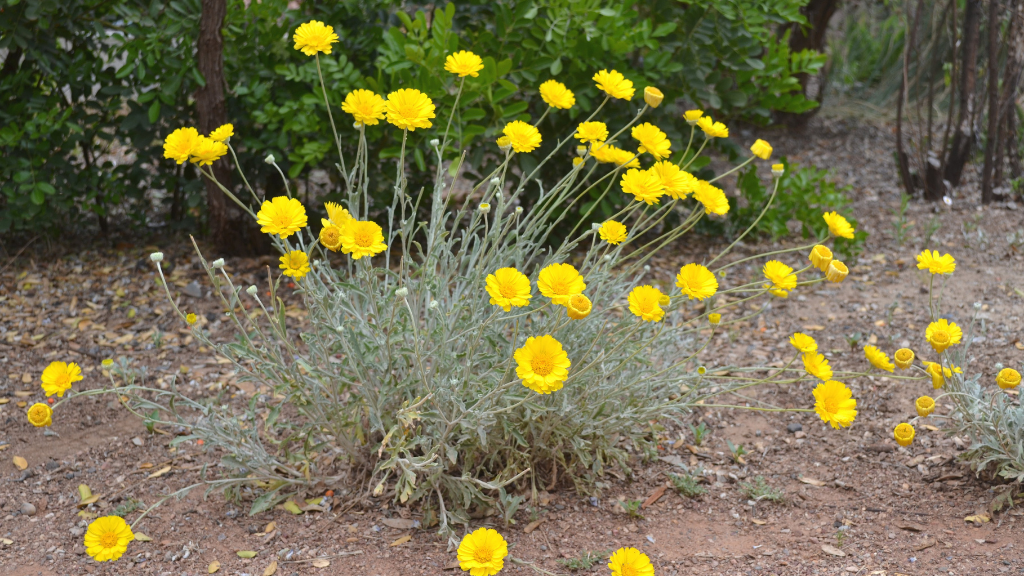 Though distantly related, these yellow-flowered beauties aren't true marigolds. The sun-loving desert marigold (Baileya multiradiata) is native to the deserts of the southwestern United States and northern Mexico.
This plant is a short-lived perennial to annual. From a clumping patch of silvery-green foliage, many of its tall stems have a bright yellow daisy-like flower head at the top. These lovely plants begin flowering in spring, and may continue flowering into summer. They grow to around a foot high, although some may be shorter.
Palmer's penstemon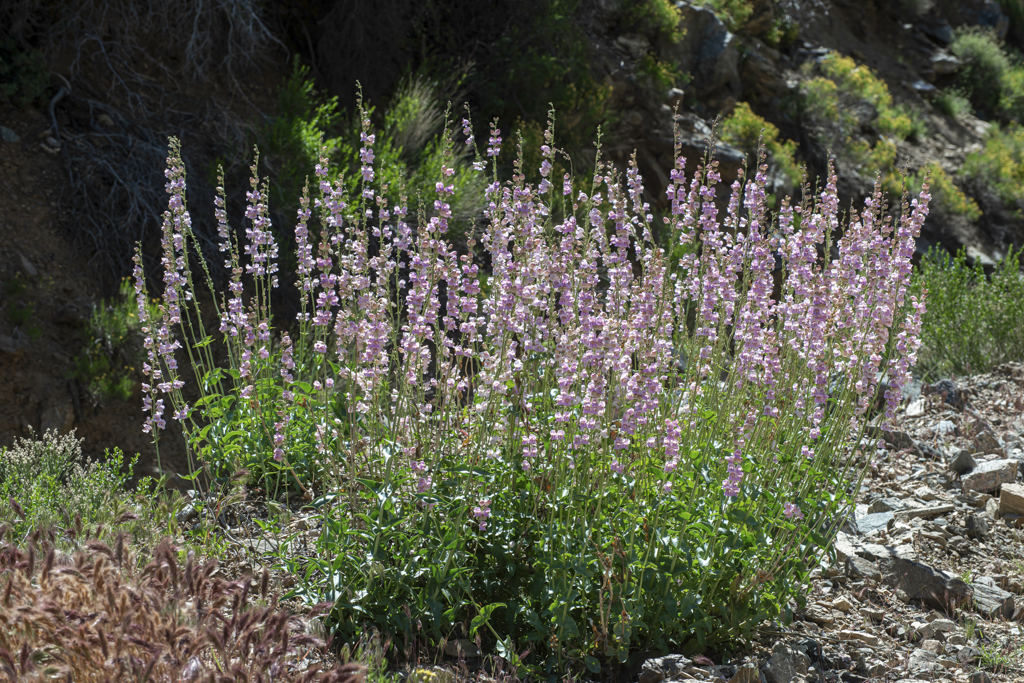 Palmer's penstemon (Penstemon palmeri) is best known for its showy, rounded flowers. It's also one of the few scented penstemons.
Named after the botanist Edward Palmer, this drought-tolerant perennial plant is native to desert mountains in the eastern Mojave Desert in California, eastern Nevada, northeastern Arizona, and New Mexico, as well as those in Utah, Colorado, Wyoming, Idaho, and eastern Washington.
Mature plants can grow to 6.5 ft (2 m) high. The leaves usually grow opposite another leaf, and the flower has large petals that are usually pink to violet or a blue-purple color. (Occasionally the flowers are red, yellow, or white.)
It's evergreen, and the larvae of both the Arachne and variable checkerspot butterflies feed on the plant.
What happens to Vegas native plants during fall?
During fall, many plants start slowing down their growth to prepare for winter dormancy. But some Las Vegas natives do flower during fall, and you may be lucky enough to come across them.
Apache plume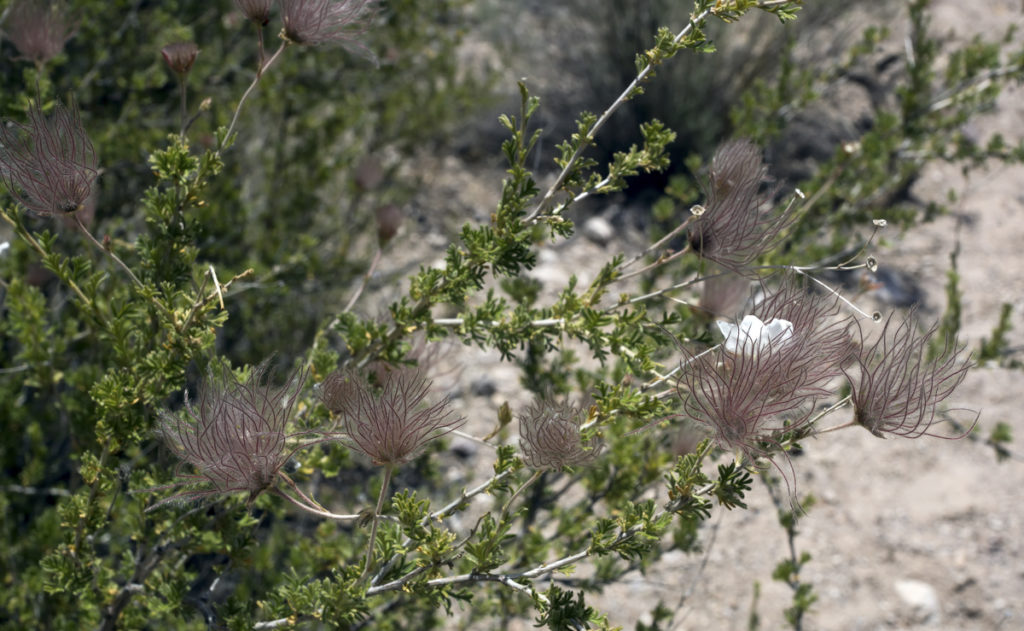 You'll find the stunning blooms of the Apache plume in spring, and sometimes again in the fall.
Apache plume (Fallugia paradoxa) is native to the desert woodlands and scrub of the southwestern United States and northern Mexico.
It grows to around 6.5 feet (2m) high, and you may notice a gray or whitish peeling bark on its many thin branches. The leaves are quite distinctive. About a centimeter long with the edges rolled under, the upper surface is green and hairy while the underside is dull and scaly.
The flower is like a rose when it blooms, with rounded white petals. But its center is filled with many thready stamens and pistils. And the center of the flower remains when the white petals fall away, leaving the distinctive plumelike lavender styles. These dark pinkish clusters of curling, feathery styles may cover the plant after it finishes flowering.
Each style is attached to a developing fruit, and the fruit is dispersed when the wind catches the styles and blows them away. Wasps also feed on its nectar.
And the Apache plume provides valuable erosion control wherever it grows.
Wild rhubarb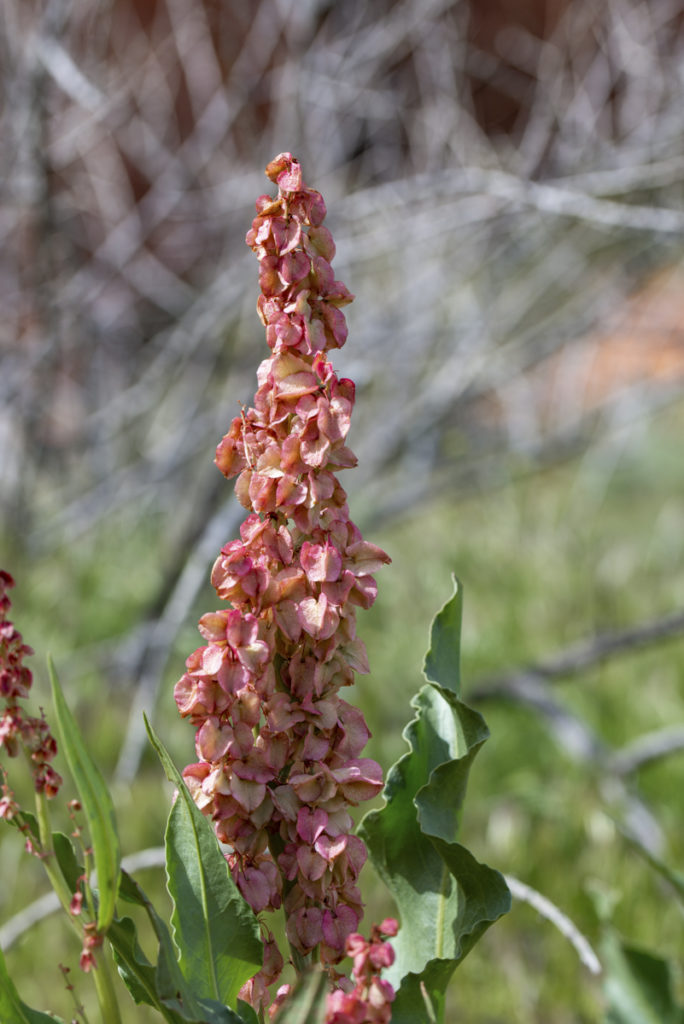 Wild rhubarb (Rumex hymenosepalus) is a perennial flowering plant native to the deserts in the southwestern United States and northern Mexico. It has long been cultivated in the southwestern United States for the roots, which are a good source of tannin used in leather tanning. It also yields a warm, medium-brown dye.
It flowers from mid-summer to mid-fall. The flower heads can be up to an inch wide, with the flowers being pink, purple, lavender, or white. The lowers are enclosed with a prickly bur, and are known for sticking to things when dried.
It's a common food plant of the ruddy copper larvae, a type of butterfly.
(Interesting fact: The ruddy copper larvae exhibit mutualism with red ants, and are often raised in ant nests until they reach adulthood.)
The desert is a fascinating place, isn't it? Las Vegas native plants and insects are deeply interconnected, making these awe-inspiring environments even more special.
Mojave aster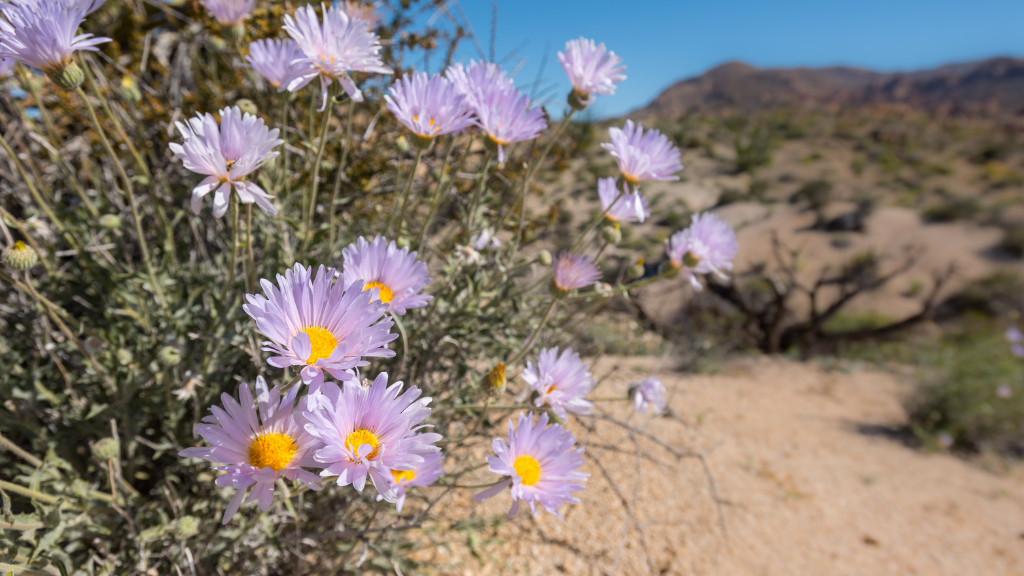 Like wild rhubarb, the mojave aster (Xylorhiza tortifolia) usually blooms in spring but can also bloom in the fall. This purple and yellow flowering plant is a member of the Sunflower family, and native to the Mojave Desert, Sonoran Desert, and Great Basin Desert.
It's a shrubby perennial, and when mature can be up to 30 inches (76 cm) high. It contains many long, gray-green stems with hairy and spiny three-inch leaves growing from the base.
Each plant may grow up to 20 flowers. The flowers themselves can be as large as two inches wide, with many purple-to-lavender petals surrounding yellow centers.
It's sometimes found in creosote bush scrub, saltbush scrub, and Joshua tree woodlands.
Winter
In winter, the freezing temperatures and strong winds in the Mojave Desert make for a real contrast to the baking sun of summer. These conditions mean that most plants will go dormant, or even die off over the winter months if they're annuals or biennials. While you may still be able to spot many of the perennials, you won't find any Las Vegas native plants blooming through winter.
Las Vegas natives in Spring
Spring is the time for growth in the desert, and your chance to watch it come to life after the winter freeze. Whether its newly germinating seeds or mature plants adding some height, you can find many Las Vegas natives with budding, bright blooms in spring (providing there's been decent rain).
Joshua tree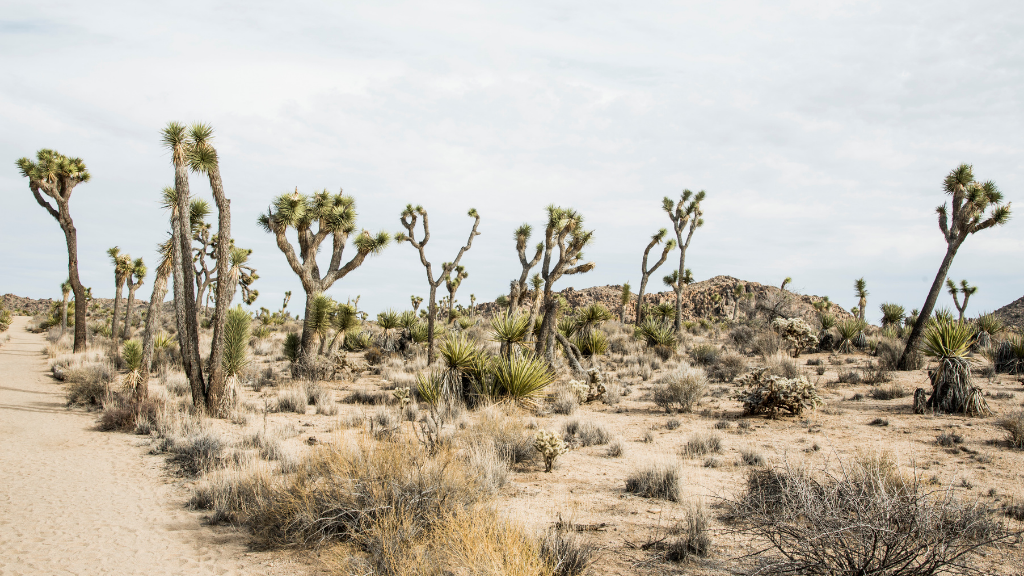 A classic image of the Mojave Desert, the Joshua tree (Yucca brevifolia) is native to the southwestern United States
(Arizona, California, Nevada, and Utah) and northwestern Mexico.
If you want to see it in flower, make sure you visit from February to late April. The creamy-white and green flowers grow in quite large panicles (branches with many flowers on them).
While the tree is famous for its top-heavy branch system, it also has a deep and extensive root system that can reach down to 36 feet (11 meters) underground. If it survives the harsh desert conditions it can live for hundreds of years, with some grand old trees living for a thousand years. The tallest trees reach an impressive 49 feet (15 meters).
Sadly, the Joshua tree is predicted to feel the impact of climate change. Ecological research suggests that by the end of the 21st century Joshua tree populations will be reduced by 90%, fundamentally transforming the park's ecosystem.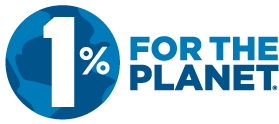 We love our Earth. As a 1% For The Planet member, we dedicate 1% of all our annual sales to local environmental non-profits. Feel good about buying from us because doing so helps preserve this beautiful planet we share.
Las Vegas bearpoppy
Las Vegas bearpoppies (Arctomecon californica) are native to the eastern Mojave desert. They like the eroded, gypsum-rich soils in the Las Vegas Valley and near Lake Mead. If you make the trip to Antelope Valley in mid-spring, you might feel awed by the colorful blanket of yellow bearpoppies, made even more stunning by the expansive desert backdrop.
The plant is rare, and protected both federally and at a state level in Nevada, Arizona, and Utah. So don't pick or disturb it. Frustratingly for those trying to preserve the species, it likes to grow in disturbed ground. It's often found in inconvenient locations such as the roadcut along Interstate-15, causing problems for road maintenance crews and landowners.
These plants are fairly easy to identify when flowering. But it's worth learning about the rest of the plant, as desert plants don't always bloom.
Las Vegas bearpoppies form a basal clump of blue-gray, wedge-shaped leaves about 6 inches long and an inch wide. The end of the leaf (the widest part) is notched, resembling a bearpaw, and covered with long, white hairs. When flowering, they usually grow several flower stems which can grow up to 20 inches (51 cm ) tall. The flowers are large and yellow with 6 petals.
The plant produces an oval seed pod in early summer that opens before the end of June.
In an example of interspecies dependence, a bee that pollinates only this species—the Mohave poppy bee—has also recently undergone dramatic a decline. The Mohave poppy bee is said to be in decline as a result of human activities such as land development, gypsum mining, off-road vehicle use, and cattle grazing.
Hedgehog cactus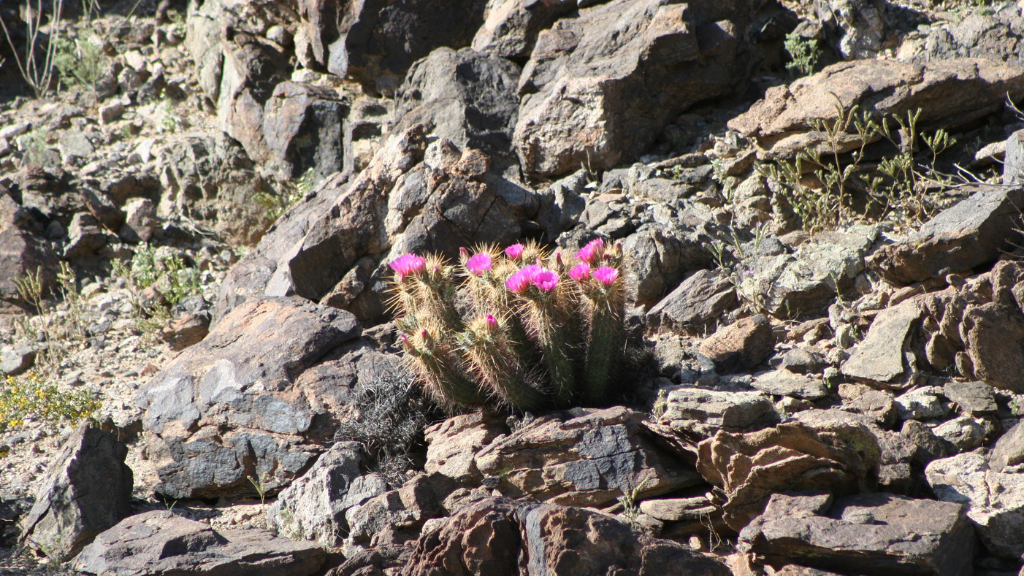 The hedgehog cactus (echinocereus) is a genus of about 70 small-to-medium cylindrical cacti that bear large and colorful flowers. The cacti are ribbed and spiny, and the spines are often colorful and decorative.
The bold flowers can be found in magenta, pink, purple and lavender, and only last five days. They're native to the southern United States and Mexico in very sunny, rocky places, and the fruit is also edible.
These little cacti are easier to cultivate at home than many others. They need a sunny exposure, light soil, and a fresh and dry winter to flower.
Alkali mariposa lily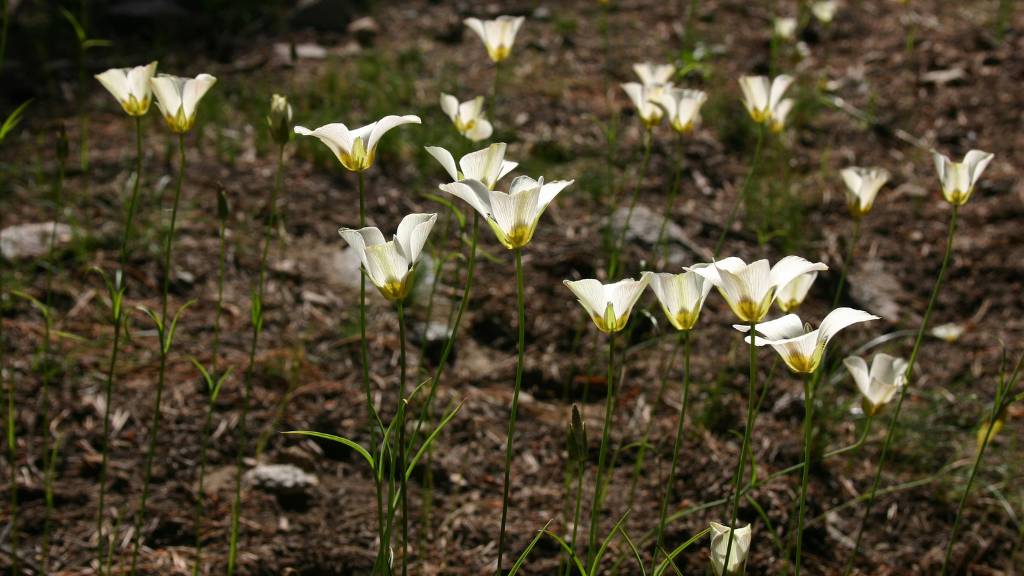 The alkali mariposa lily (calochortus striatus) is another native of California and Nevada. If you see this rare beauty, be careful not to disturb it. It's officially a vulnerable species on the California Native Plant Society Inventory of Rare and Endangered Plants.
This is a plant that likes alkaline soils and land beside wetlands. Where you find Shadscale scrub and chaparral habitat, you may also find the alkali mariposa lily. If you're visiting the Mojave desert (particularly the Antelope Valley), or parts of the Sierra Nevada, Amargosa Desert, Owens Valley, Yosemite Valley, or the eastern Transverse Ranges, you may be lucky enough to come across one of these vulnerable species.
But how will you know? What does it look like?
From April to June you may see it in flower. At the base you'll find a long basal leaf that may be laying flat on the ground to help protect the plant's roots. From there it grows a stem that's usually only a few centimeters tall. At the end of each branch you'll find the distinctive bell-shaped lily bloom with three rounded petals, each one only about 2–3 centimeters long. The petals range in color from very light to very dark pink, lilac, or purplish with darker pink or purple veining or mottling.
Banana yucca

The banana yucca (Yucca baccata) is native to the deserts of southwestern United States and northwestern Mexico. The common name, banana yucca, comes from its banana-shaped fruit. It's also closely related to the Mojave yucca, and hybrids between them occur where populations intersperse, which can make identifying them tricky.
The leaves are 20–30 inches (50–76 cm) long, and are a blue-green color with short or nonexistent trunks. The white- or cream-colored flowers have shades of purple on them too, and you can see them between April and July. The fleshy fruit is 8–18cm long and 6cm across, and tastes like sweet potato.
The plant plays host to the larvae of the ursine giant skipper, yucca giant skipper, and various yucca moths. After feeding, the skippers pupate in the yucca's roots.
Take only photos
Please remember to enjoy these Las Vegas native plants responsibly so you contribute to their preservation. Many of our unique plants are protected by law. Always remember that a photo lasts much longer than a plucked flower. The beautiful blooms of our native plants help them remain for future generations, as well as feed vital native pollinators such as butterflies and bees.
Enjoy a field trip
How about a guided field trip with the experts? You can learn all about our fascinating and hardy Las Vegas native plants on a Nevada Native Plant Society (NNPS) field trip. These field trips run in spring, summer and early fall.
How to bring a bit of the desert home
As a Vegas local, you'll know how tough this climate can be on plants. Desert species such as succulents and cacti do best here. So if you're inspired to bring a little bit of the desert into your own home or garden, check out these resources.