Dolly Parton's 9 to 5 was written in 1980. But despite its age, the song lyrics still accurately describe how we Americans work.
According to the latest American time use survey by the Bureau of Labor Statistics, we spend 7.9 hours a day at work. (This figure drops slightly to 5.4 hours if working from home.)
That means we spend more of our time working than looking after our kids, or even just relaxing and enjoying ourselves.
And that sucks.
What's even more staggering is that around 60% of the US workforce works indoors, with little opportunity to connect with nature. That's a lot of people spending a lot of time away from plants, nature, and the chance to breathe fresh air.
No wonder these workers, their colleagues, and their employers are all looking for great plants that are good to have in the office.
If you're in a similar position, and want to bring more of the outdoors into your indoor workspace, this article is for you. You'll learn:
16 of the best office plants
the 3 qualities every office plant needs
the potential allergy risks of indoor plants
how to choose plants that will work best with your business.
Ready to find your ideal office plant? Let's dig in.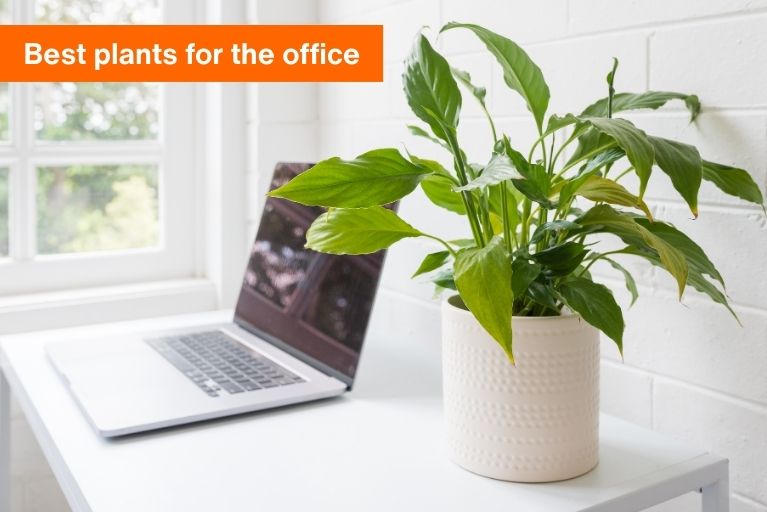 The qualities of a great office plant
If the position of 'best office plant' was written as a job description, each potential candidate would need three non-negotiable character traits.
1. Good looking. We understand that 'looking good' isn't exactly in line with modern HR thinking. But we're talking plants here, not people. And because office plants are supposed to give our brains and eyes a rest from our screens, they should look interesting, be bright and colorful, and (most importantly) always be healthy.
2. Low maintenance. Your business comes first, and most business owners (big and small) already have a never-ending to-do list. Plants that can take care of themselves, and need only a bit of assistance every few weeks, are ideal workmates.
3. A low allergy risk. If you want to minimize the risk of setting off people's allergies, avoid having flowering plants in the workplace. Sneezing, wheezing employees are counterproductive to the productivity boost plants are meant to bring
Managing office plants and allergies
There are no national guidelines banning flowering or high-pollen plants from workplaces. But companies often have their own plant policies to keep their employees comfortable.
Plant varieties that can be powerful allergy triggers include:
flowering maples
weeping figs
Bonsai trees
African violets.
Thankfully, most indoor plants are on the lower end of the allergy scale. But there's a caveat: Without the right care, any indoor plant can potentially become an allergy problem.
If you have plants in your home, you've probably already come across the challenge of keeping them dust free. Their leaves are magnets for it. And if you let the dust build up, your well-meaning plant can become an issue for anyone with allergies.
To keep your workmates or employees comfortable, wipe the plant's leaves with a damp cloth once a month. You could also give them a watering can shower outside. Not only will this help the people in the office, it will also make it easier for your plants to photosynthesize.
Dusty leaves are one thing. Moldy roots are another.
Plants can become moldy if they sit in poorly drained soil or a pot that holds water. This can cause root rot, which will kill the plant. But the bigger danger is the mold spores becoming airborne, as they can affect anyone with asthma or respiratory issues.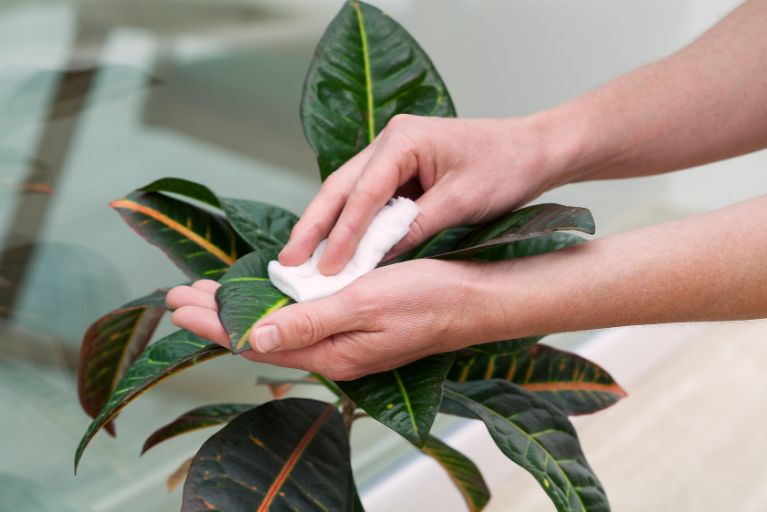 4 tips to find the best plants for your office or workspace
Having a bright, healthy plant in your office can help boost productivity by around 6 percent (apparently). So, as with finding a new teammate to ease the workload, you'll want one that fits in well with your business.
Before ordering your indoor plants, here are 4 things to consider.
1. Location and lighting levels
Some plants thrive in full sun while others prefer cooler, shadier spaces. Decide where your plant (or plants) will be located, and check that spot throughout the day to find out how the natural light levels change.
You'll also want to be wary of air conditioning units and fans. Dramatic temperature changes may upset your plant colleagues, so look for locations where the temperature stays fairly consistent throughout the day.
2. Who will see it?
The plants you choose, how they're rearranged, and even the vases or pots they're in may all be influenced by who will see them. For example, if you're trying to create a green feature that welcomes visitors in your reception area, you may want a more structured, eye-catching arrangement or high-end pots. But the plants you choose for your break room or to place on people's desks may be more low-key.
3. Who will care for your plants?
Even the hardiest of indoor plants need some TLC. And who ends up looking after yours may depend on the size of your business. If it's just you then the buck stops there, right? But if your organization is slightly larger, you may want to discuss watering and dusting the plants with any office cleaners you have, or rotate the duty between your teams and employees.
(Actually, letting employees re-pot the plants every so often is a good idea. A study has found that workers who spent their break time gardening were less stressed than those who stayed in front of their computers.)
For large businesses, you may want to work with an interior landscaping company. If that's the case, you should ask whether they provide a continued maintenance service.
4. What the plants will be potted in
How the plants are housed can affect their care and how they're watered. There are plenty of ways to decorate an office with plants. Whether they're in containers on top of cupboards or arranged on a living wall, the design will affect the irrigation system you need and how you should water them. The last thing you want is water spilling out onto desks or the office carpet, or streaking down your walls and cupboards.
There are solutions to all these challenges. You just need to know what your plants are potted in so you can choose a watering method that gives them enough water without damaging your office building or furniture.
The 16 best plants for your office
And now for the bit you've been waiting for. Here are 16 plants we recommend for offices and workspaces, complete with notes on why they work and the care they need.
1. Spider plant

Spider plants love warm, humid indoor environments. They're easy to grow, and look great on shelves or in hangers where their long leaves can creep downwards. Keep the soil moist (but not soggy) and keep them out of direct sunlight.

2. Snake plant

Snake plants only need watering every few weeks and repotting once a year (in the spring), which makes them perfect for busy people. Being succulents they prefer lots of sunlight, so the brighter your office is the better.

3. Zamioculas Zamiifolia (ZZ plant)

Zamioculas Zamiifolia is an Eastern African native that thrives indoors. When they're healthy, they have glossy, bright green leaves that will instantly liven up any space. While ZZ plants do okay in low-light settings, they prefer some indirect sunlight. Water ZZ plants only when the soil has completely dried out.

4. Peace lily

Peace lilies are low-maintenance indoor plants that everyone loves for their crisp, white flowers. They're happiest when their soil is moist (but not wet), and when they're located away from direct sunlight and air conditioner ducts.

5. Pothos

Also known as Devil's Ivy, pothos comes in a variety of shapes, textures, and colors. These plants work well in planters, hangers, or small pots (if you want to put them on people's desks). They only need watering every 1-2 weeks, and enjoy bright environments (but not direct sunlight).

6. Rubber plant

Indoor rubber plants can grow up to 10 feet high, making them a great option if you have a large blank space to fill. Their waxy deep green leaves give them an elegant, business-like look. You'll need to help your plants breathe by wiping their leaves with a damp cloth once a week and watered quite often in summer, but only twice a month in winter.

7. Parlor palm

For a tropical office feel, choose slow-growing parlor palms. They thrive in bright, indirect sunlight, but are also happy to be in a shadier setting. Avoid over-watering them or leaving them sitting in water, as they're susceptible to root rot.

8. Succulents

If you're looking for super easy then succulents are the way to go. Caring for succulents involves little more than giving them lots of sunlight, making sure their soil drains well (a little sand or rocks can help with this), and watering them when the top 2 inches of soil is dry.

9. Philodendron

Philodendrons are majestic creepers with thick, waxy leaves. They grow fast, and look great in hanging planters or (if controlled) medium-sized pots. Keep them out of direct sunlight, but make sure they have access to some filtered brightness. And water them every 1-2 weeks.

10. Dracaena

There are 120 species of dracaena, with the draco (Dragon Tree), the deremensis (Janet Craig), and the variegated-leaved fragrans being the most popular. Whichever you choose, these pointy leaved trees and shrubs enjoy dry conditions, so only water them when the soil is bone dry.

11. Aglaonema

Loved for their two-tone leaves, aglaonemas are great if you want an office plant with some sparky color. Help them thrive by placing them in a well-drained potting mix in indirect sunlight. (They can grow in low-light spaces, but their leaf variegation may fade.)

12. Peperomia

Peperomia plants are used to jungle-like conditions, so they enjoy humidity and indirect sunlight. Depending on where the plant is located, you can either keep it as a short-stemmed plant or let it go wild and transform into a trailing peperomia.

13. Bromeliads

These drought-tolerant plants are ideal if you want something a little showier. Make sure they're planted in a fast-draining potting mix, as sitting them in damp soil will quickly bring on root rot.

14. Bird's nest fern

The bird's nest fern's broad, long green rosette formation makes it extremely eye-catching. It loves tropical-like conditions – moist soil, warm temperatures, and dappled sunlight. Mist your fern every few days to keep up the humidity, and wipe its leaves regularly so it can breathe.

15. African violet

If you're set on having flowering plants in your office, choose African Violets. They flower all year round, they're compact (making them an ideal desk plant), and they're just as happy in a hanging planter as in a pot.

16. Jade plant

Jades are another type of succulent and thrive in well-draining soil. Mix some rocks or sand into the soil, and avoid letting them sit in any water that runs through. Keep them in dry, full-sun areas of your office, and re-pot them every few years.
Plants that are good for the office can also be good for the home
Given we spend so much of our daily life at work, furnishing your office, warehouse, or home workspace with plants is also a good idea. They can increase productivity, and deliver that important, comforting connection with nature – something pictures of plants and beanbags can't replace.
A lot of the plants we've mentioned in this article are great for the home, too. If you'd like to know more about keeping house plants, check out these related articles.
The wondrous benefits of houseplants
12 pet-friendly plants that grow well indoors
Easy house plant care instructions