The US wedding flower industry is big business—around $7 billion according to one report—which means wedding florals are always in high demand. Unfortunately, the sheer economic scale of the industry means not all wedding flowers can be grown, sourced, and picked sustainably.
However, there are still plenty of eco-friendly options for the environmentally conscious.
As a business that embraces sustainable floristry methods whenever possible, we're always on the lookout for greener solutions, especially when it comes to flowers for events such as weddings. So if you want to reduce your ecological footprint when choosing and buying wedding flowers, here are our seven sustainable wedding flower tips.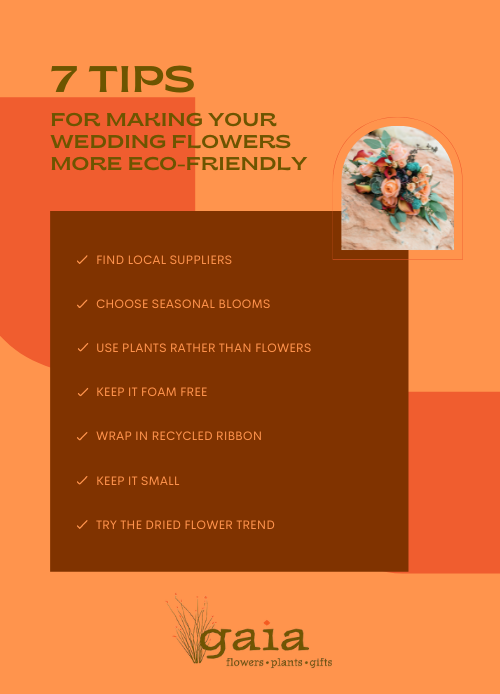 1. Find local suppliers
Shopping locally is always better for the planet. Finding a local florist who sources their produce from growers close to their store reduces the number of miles the stock racks up in the air or on the road. For example, we try to source as many of our flowers and plants from nearby California. Failing that, we'll still try to buy produce grown in the US rather than overseas where the rules on harmful chemicals and pesticides may be different. Ask your chosen wedding florist where the flowers you want will come from, and whether they can suggest ways to keep it as close to home as possible.
2. Choose seasonal blooms
Modern growing techniques mean you can get pretty much any flower you want, even if it's not the 'normal' time for them to be in bloom. If you want to keep your wedding flowers eco-friendly, we suggest choosing flowers and foliage that naturally come into season around the time you're getting married. Growing flowers naturally uses a lot less energy, water, and chemicals than 'forcing' them to grow out of season.
If you're getting hitched here in Nevada, here's a list of plants and flowers that are naturally in bloom each season to give an idea of what's available.
| Season | What's in bloom |
| --- | --- |
| Spring | Tulips, daisies, poppies, daffodils, irises, roses, waxflowers, calendulas |
| Summer | Sunflowers, peonies, cosmos, jasmine, roses, chrysanthemums, lilies, daisies |
| Fall | Pumpkins, cabbage, chrysanthemums, foxgloves, seedpods, violas |
| Winter | Snapdragons, pansies, waxflowers, poinsettia, hydrangeas, kale, evergreens, holly, calendulas, amaryllis |
3. Use plants rather than flowers
Buck the trend when it comes to your wedding arrangements, bouquets, and boutonnières by using plants rather than cut flowers. Green and flowering plants often last longer than cut flowers, so you'll get to enjoy them for longer. And if their roots are intact you can replant them afterwards. Succulents work great for this because they're hardy and easy to propagate. Use them as a forever keepsake in your home or garden, or as thank you gifts for guests.
4. Keep it foam free
Floral foam is bad for the environment. Not only does it contain the same amount of plastic as 10 plastic grocery bags, it also breaks down into smaller microplastics that become toxic to animals and humans. So what can you use (or ask your florist to use) instead for your centerpieces or table arrangements?
We suggest choosing styles that look great in vases. Some florists may have vases for hire, but you can also keep an eye out for suitable vessels in your local thrift stores or even start collecting empty preserve jars.
5. Wrap in recycled ribbon
In the grand scheme of wedding planning, what your wedding bouquets and boutonnieres are wrapped in may seem like a small detail. But it's one you can very easily turn green. If you're the bride and have excess material left over after your dress fitting, hand it over. It can be upcycled as the wrapping for your flowers. Alternatively, keep an eye out in second-hand stores for rolls of ribbon, or ask your florist whether they have spare or leftover ribbons from other jobs. Not loving the ribbon look? Request a biodegradable material such as jute or hemp to be used instead.
6. Keep it small
Small bouquets and arrangements need fewer cut flowers, which means a smaller impact on the environment. Posies, corsages, and single flowers are great style options if you're looking to keep the blooms you use down to a minimum.
7. Try the dried flower trend
You often hear of brides and grooms drying out their fresh flowers or getting them pressed after the wedding. But in the past few years using dried flowers on the day in place of freshly cut blooms has become more popular. For the eco-conscious they're a sustainable wedding flower option because they can, potentially, last for years rather than weeks.
After the wedding, reuse dried flowers as extra decorations for other parties you throw, repurpose them in any artwork you create, or simply use them to decorate your home. This lowers the number of cut flowers you need to buy, which is good for not only for the environment but also your purse strings.
Keeping it green after your wedding
These seven ideas focus on how you can choose more eco-friendly wedding flowers for your special day. But your earth-conscious decisions don't have to stop once the ceremony and reception are over. Rather than throwing your flowers away, keep reducing your footprint (and that of the flower industry) by:
seeing whether the venue or florist can use the blooms in another arrangement or for another event
donating your flowers to a hospital, community center, care home, or business
asking whether your florist wants them back for use in a photoshoot
drying the flowers and repurposing them into gifts.
If you're a couple who wants sustainable wedding flowers, then get in touch. We'd be honored to help create eco-friendly wedding bouquets and centerpieces that suit your wedding style.
Need some inspiration? Look through our wedding bouquets.